My first 97 roll - synchronicity?
BelgarathMTH
Member
Posts: 5,653
Hey, I was just inspired by the character Jon Morgan from Heroes of Might and Magic 6 to start thinking about this new character I might play for the BG Trilogy, including Adventure Y.
And, lo and behold, while trying to establish and save a prototype, I got the first 97 roll I've ever seen in my life!
The character that inspired me was from Might and Magic Duel of Champions, a Haven hero who leads the human faction, hates evil magic, and can heal himself. I've started building a deck that's based on Haven stacking, and he's doing pretty well with it so far (in the card game). I've only recently fired up HoMM6 and started the first tutorial mission, with Haven, but I've found out enough to know that the card game I'm enjoying is completely inspired by HoMM6. All the hero cards come from that game.
He's this guy:
Yada, yada, yada, TLDR, I've found that I really identify with the equivalent of inquisitors/knights/paladins/clerics, human "holy rollers" who hate evil magic of all kinds. And, in youth, I had the brown hair and hairiness of Morgan, symbolized by his beard. So, I started thinking, hey, there's a perfect tie-in to BG here, where I could play "Keldorn".
So, I could play this 97 roll, which I've saved as a new inquisitor file, as though I *am* Keldorn. The one in BG2 will not exist in this hypothetical run. In BG1, I would be this "young" version of myself/big K/Morgan:
And, in BG2, I would be the "me" version of the Big K we all know and love, except, of course, I would never have married or started a family, and the canon version of Big K would then not exist in my game.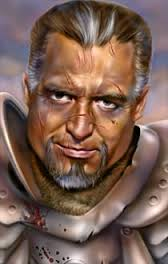 I might even post a journaled run with this dude after Adventure Y is released. I'm kind of tripping on the idea of this version of "me" from youth to middle/old age in the BGT universe, including whatever the new adventure will be.
Side question: Will "Adventure Y" be released on Steam? I'm kind of into the idea of eventually buying all of the EE's on Steam now, so that I can get the nice in-game counter, and the inclusion of the EE's to my general collection.