Soundtracks for BG:EE, SoD, BG2:EE, IWD:EE, PST:EE are
now available
in the Beamdog store.
Restore Charm Spell durations
I know you are busy with larger issues at the moment, but I recently realised these changes (that have happened over time) and I would appreciate if you would changing the durations for charm person, charm person or mammal, and dire charm back to what they were in Baldur's Gate 1 (changed for both BGEE and BG2EE).
Since Baldur's Gate was released the mage level 1 charm person spell has had its duration reduced to only 5 rounds, down from what it was originally in Baldur's Gate 1 (100 seconds or roughly 17 rounds).
The 2nd level druid spell charm person or mammal was listed in game in BG1 as lasting 20 rounds (I've actually just tested it and thats how long it lasted). According to Near Infinity in BGEE it now lasts 10 rounds instead.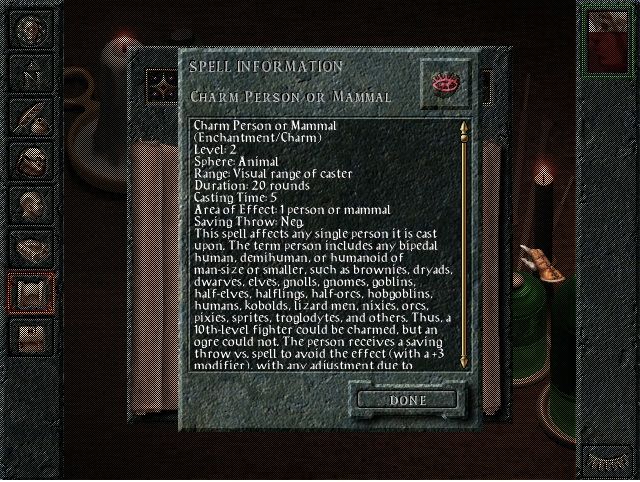 While the Near Infinity description in BGEE states that the third level spell Dire Charm lasts 2 turns (20 rounds), it actually only lasts 5 rounds. In BG1 it originally lasted 20 rounds.