Truth be told, I've been reluctant to touch SCS for years, instead relying on self-imposed restrictions to raise the challenge cap (solo ironman runs, etc.). However, recently I decided to do a SCS non-hardcore solo run with a Blackguard. The logic was as follows: while there is no doubt I'll be able to handle a solo playthrough, especially with such a powerhouse of a kit, I lack experience specifically with SCS, thus it's highly likely I'm going to make much more mistakes than usual. Consequently, a hardcore run becomes practically inconvenient (extremely masochistic, in other words).
What can I say? The impressions are ambivalent. My biggest issue with SCS is probably that it's essentially a mod for experienced players that don't act like experienced players. Don't get me wrong: I highly appreciate the amount of thought and work that has gone into rewriting the scripts and making them efficient. There is a huge caveat, though. For example, the sirines are improved, indeed, but I have learnt about that only from studying their script in Near Infinity. Why is that? Because for no plausible reason an expert player will ever fight them without a Greenstone Amulet or other Mind Blank-like effect up his sleeve. Of course, if the author's intent was to create a mod that works only if the players exhibit amazing stupidity on purpose, all of my feedback is irrelevant. But then the vanilla game is also quite unforgiving when you have no idea what you are doing: refuse Korax, and try to take on those basilisks with no Protection from Petrification = instant death. Why would a sane person do that, is a completely different question. Hope you get my drift.
In short, my point is: expert players seldom play by the book, and always prefer an oblique approach to a straightforward charge. Unfortunately, under such conditions, SCS does not perform well.
Now, let's take a closer look at the individual components. I will use some videos in the process to illustrate my points.
Smarter general AI, Better calls for help, Smarter mages, Smarter priests:
Well, the difference is there, no doubt. However, it isn't felt as much as I thought it would be. So they pre-buff, use ranged weaponry when appropriate, switch to melee when appropriate, and aren't that easy to pull one by one anymore. Sounds like it does a lot, correct? Well, here's the catch: maybe there is something wrong with me, but I'm not even entirely sure all of these things actually benefit the AI. In fact, I have a very well-founded suspicion that in a huge percentage of cases, au contraire, the new scripts confuse the hell out of the poor creatures (Davaeorn being the foremost example).
Improved spiders, Smarter sirines, Smarter basilisks:
I couldn't tell the difference. No, I'm not blind, I know basiliks now have more sensible targeting, phase spiders actually phase in and out, etc. Still, if I weren't so well acquainted with the original game content, I wouldn't have noticed. If there is an increase in difficulty for these types of enemies, it's barely noticeable, almost cosmetic.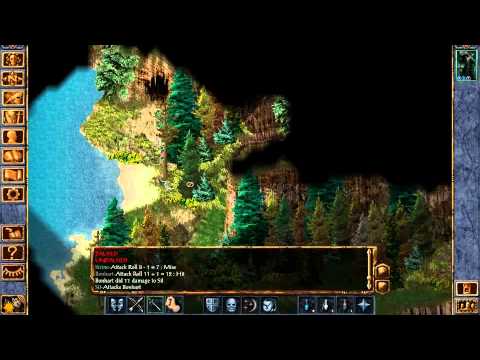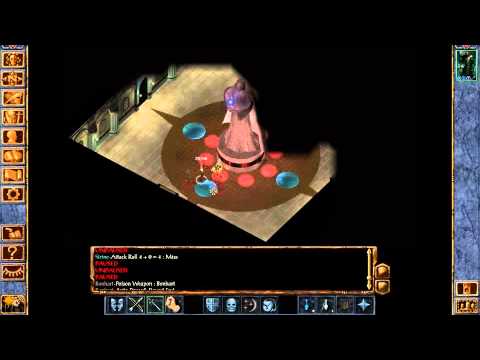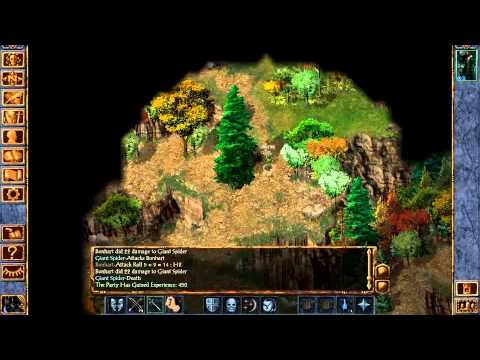 Dark side-based kobold upgrade:
This is a substantial change, that makes some of the battles in the Nashkel mines somewhat challenging. More kobolds with upgraded stats, plus some of them wield magic.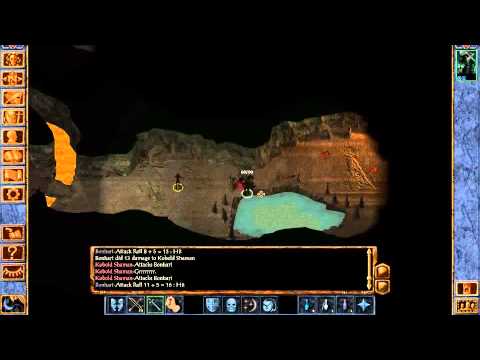 Improved Drasus party:
Yes, improved it is. Again, the change here pertains to character levels and items, not the scripts, and the effect is felt immediately.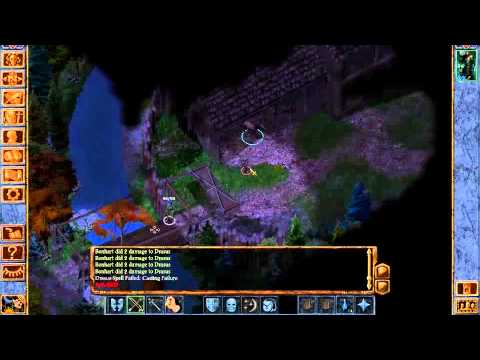 Tougher chapter II end battle:
Well, Mulahey now pre-buffs and has more minions. I don't think it makes a significant difference, as he still dies in 10 seconds, and his minions still are quite pathetic.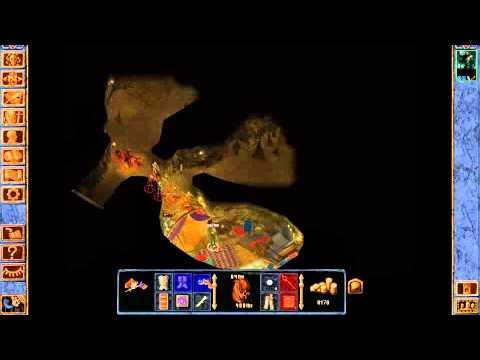 Tougher chapter III end battle:
Now it's a considerable challenge. And again, mainly because there are more enemies.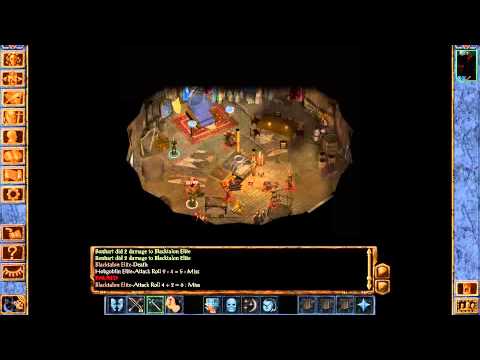 Tougher chapter IV end battle:
SCS Davaeorn is a huge disappointment. First of all, he's actually easier than the original Davaeorn, that was quite a tough nut to crack. Now you can just ignore the battle horrors totally, which is a huge boon. Moreover, the guy is really confused about his script. He keeps entangling himself, likes to engage in melee with his mighty quarterstaff, and rarely ever teleports away.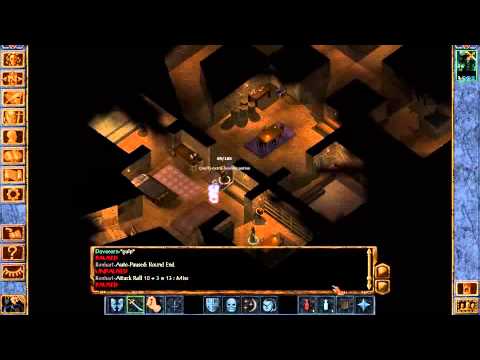 Improved doppelgangers:
At Duchal Palace a lengthier battle awaits, though not necessarily a more challenging one. That cowardly doppelganger mage just keeps running away and casting abjuration spells. Otherwise, I can't say there is much of a difference. Oh, and there is a bug here: please note Lia just stands there like a statue, regardless of the circumstances.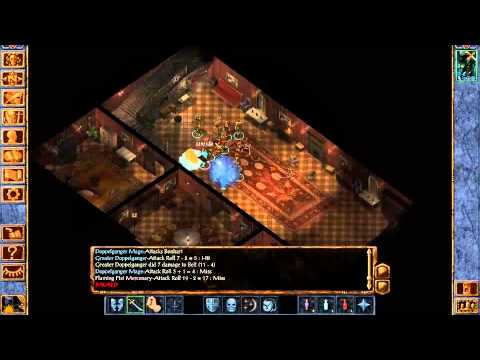 Improved final battle:
This one is really buggy. First of all, you shouldn't be able to fire poison-enhanced Arrows of Detonation at Sarevok without provoking any reaction. As you can see, I just gib both Semaj and Tazok with collateral poison damage this way before Sarevok recalls to go hostile. And it's not that I use some kind of exploit here. As you can see in the videos, I approach Sarevok as directly as possible! Secondly, very often the second pair of Sarevok's cohorts (Angelo and Diarmid) just refuse to teleport in – as a consequence, you are stuck at the temple with an unkillable Sarevok. Yay! Thirdly, with Boots of Speed and good timing, one can save game at any point of the final showdown, which probably wasn't intended by the author of the mod.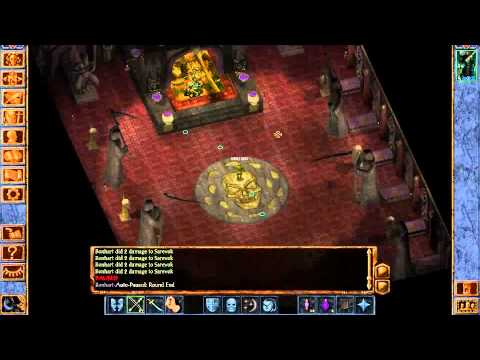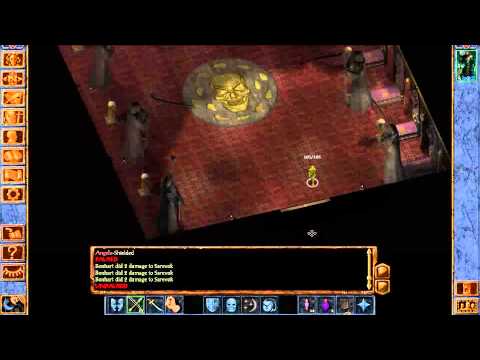 Improved miscellaneous encounters:
I can only really comment on Cythandria. SCS Cythandria is a huge leap in difficulty compared to the vanilla one. Her pre-buff script is uncompromising, as are her stone golem servants.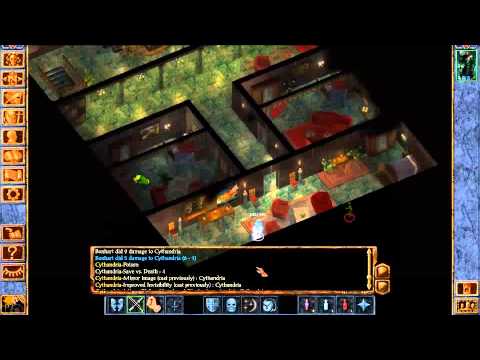 I'd like to add a couple of words to sum it all up. In general, SCS is at its best when the changes it introduces are, so to say, numerical, of either quantitative or qualitative kind. For example, Cythandria has stone golem guards instead of puny ogres, and suddenly ceases to be a pushover, or there are much more kobolds at Nashkel mines, some of them spell-casting. On the other hand, whenever the author relies on the improved AI scripts to make things more challenging, it's either hardly felt (sirines, basilisks), or turns a battle into a crazy glitchfest (Davaeorn, Sarevok's party).