This is going to be a mercifully limited playthrough journal commentary-wise, I plan to just hit a few highlights.
I set out to try give myself a bit more challenge so I figured I'd try SCS with a party of three companion NPCs that I don't often use and are not regarded as particularly powerful. And I wanted to try a Fighter/Mage build that is a bit unusual. Anyway, here is the party:
Hector, human CN Barbarian 3/Transmuter
Tiax
Rasaad
Safana as Swashbuckler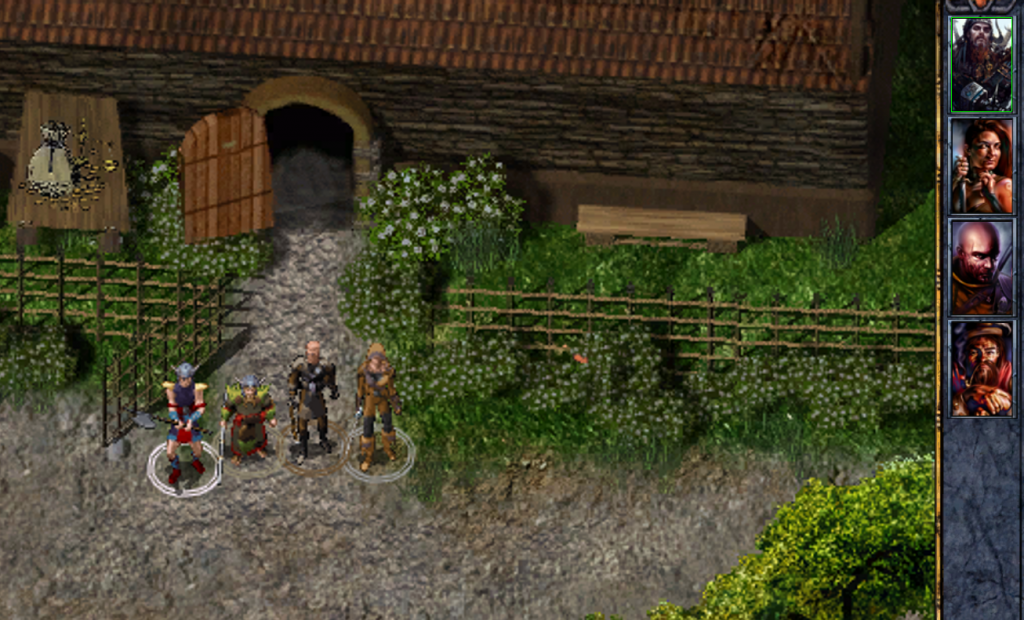 As you can see I made some edits made via EE Keeper. I won't bore folks with the details of a few missteps that I made, but I learned in a slightly roundabout way that the way to get a dual-class Barbarian/Specialist Mage is to 1) start with Fighter, 2) dual to Mage, 3) via EE Keeper assign the Mage specialty kit (here Transmuter), 4) use EE Keeper to add the Barbarian Rage innate ability.
Hector is a hulking warrior who wields a haldberd. As I'm playing him, more than half of his spell slots must be filled with Alteration spells--which I'm pleased to find are (at least for me)
really
fun for a meleeing Mage.
Oh, and Hector loves his cat familiar. He uses her to scout just about constantly. Haven't yet had the cat try pickpocketing, but tonight I'll see how that goes.
I'm just having some powergaming fun for this run, so I'm metagaming and reloading at will.
Hector and Tiax went straight to the bassilisk map in order to level Hector to just shy of Fighter 3/Transmuter 4.
It's a shame that Color Spray doesn't scale to opponents, because it is so darned cool. I'm going to miss using it when enemies start to consistently save against it: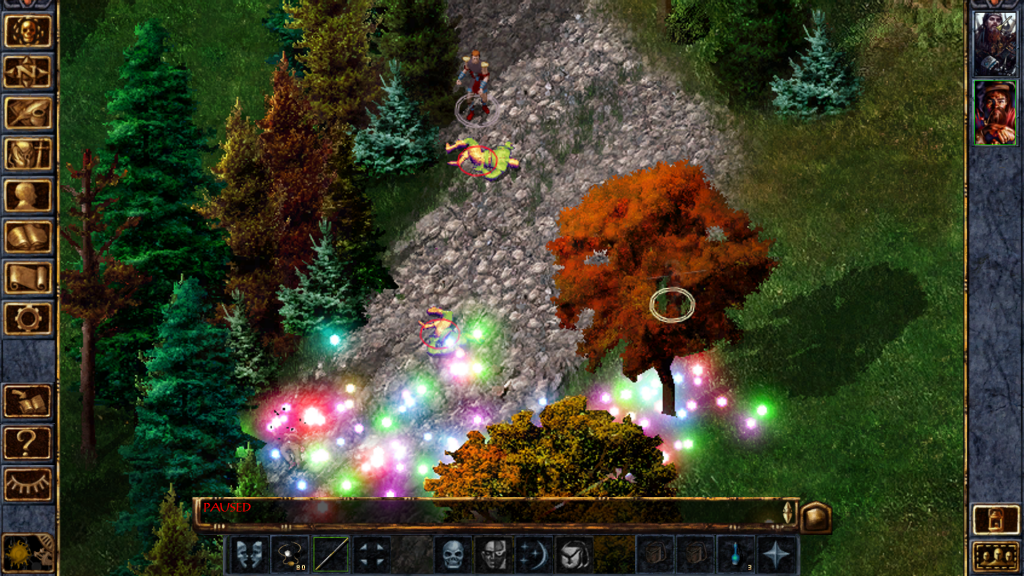 And the Alteration spell Strength is seeing a lot of use as well right now.
So this is a motley bunch, and I am very pleased thus far with the unusual chemistry of this party. The personalities seem to contrast one another well. Tiax and Rasaad adventuring alongside one another is... just special.
In terms of utility they complement one another rather well also. Tiax is a little badass! I mean I know from Cleric/Thieves; but especially with his Summon Ghast ability the little guy is really proving a much stronger contributor than I remember. I'm going to be fascinated to see how well Safana performs as Swashy. I just added her to the party, but so far so good. This is the first time I'm using Rasaad as a Sun Soul Monk. So that's kind of an interesting departure as well. I'm looking forward to when he gets Stunning Fist.
Anyway, I'll just post anything that seems noteworthy about the battles, or otherwise seems worth mentioning. About the only thing to note thus far is the SCS sirines weren't as hard as I expected. I did have to wait out some of their charms on some of the party, but no one was really in any serious danger. And I had Tiax just sneak into the pirate cave and steal the treasure, rather than have the party try to take out the flesh golems.