So I never finished my half-orc fighter/mage/thief playthrough a few months back because I got up to the City-of-Caverns then I tried messing around with my mods while on vacation and accidentally overrode my backups so I couldn't do anything when my game got wrecked.
Since then I haven't really had the motivation to start over and I've mostly been modding here and there. Now that I'm feeling up for a bit of a challenge again I took the time to rebuild my game and start over.
Difficulty/Settings:
Legacy of Bhaal - I've developed a bit of a love/hate relationship with this setting. Although I still think it's horribly flawed I've found a certain thrill in overcoming the starting difficulty and making my way to the top. This time I'm doing it proper by keeping double damage on and having regular xp progression. Since I'm not playing a triple-class this time I think doubled experience is overkill.

Sword Coast Stratagems - I've upped the difficulty here quite a bit as well. I've turned random spawns to almost-highest (everything except liches) and (probably going to regret this horribly down the road) HLAs for all applicable casters. Everything else is the same as my previous playthrough (except Party's Items Taken Away at Spellhold, that one ruined my game)

Ascension - Assuming I ever get there. I enjoy ToB unlike most so this is the part that I'm actually looking forward to.

Rules:
I'm not all too keen on enforcing rules. Most of the time I end up breaking them anyhow. Nonetheless, I'm keeping this playthrough as roleplay-oriented as possible, so powergaming is kept within the realm of reason. That said I'm still going to have to abuse a few tricks here and there because I'm really not that good.
Mod List:
Most of my mods don't go a long way towards making the game harder. If anything the bonus experience, gold and items will probably only do the opposite. Regardless, for anyone who's interested in the mods I use:
WeiDU.log
https://gist.github.com/ArtemiusI/1318b2ca2853e73cafebc6e36ee2eb40
WeiDU-BGEE
https://gist.github.com/ArtemiusI/80a3daf9e58e9bbae99797d8277807dc
My Bhaalspawn
I have used this character over the course of several years and he is still by far my favorite. This time I designed a fitting (albeit super cheap) kit for him.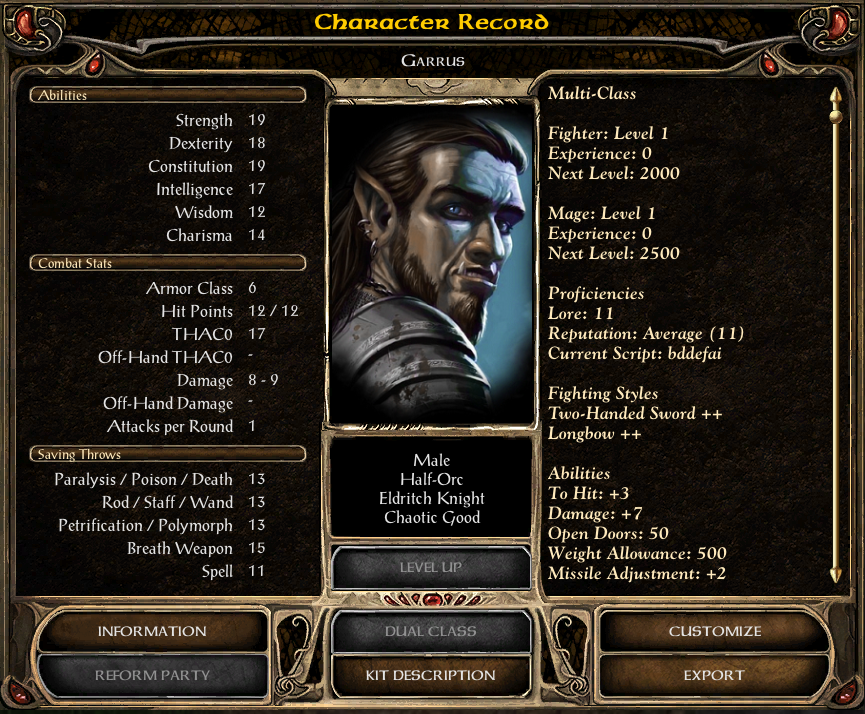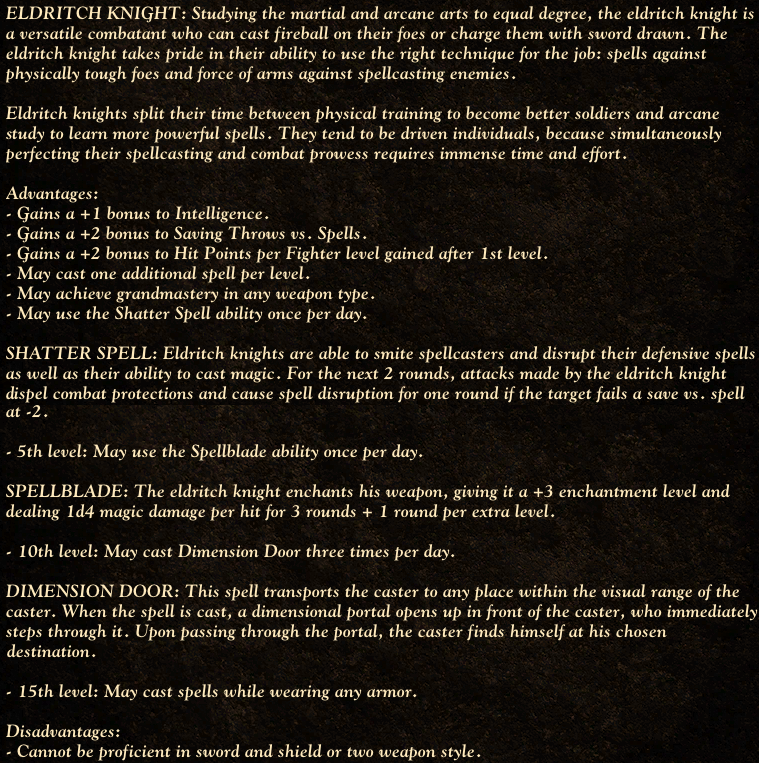 The innate bonuses are pretty big but I don't think the abilities will make or break fights that often. Maybe Shatter Spell will turn the tides of a mage battle here and there. The other two are kind of just cool to have.
I'll see how far I get this time. Hopefully, so long as I've learned my lesson, no more technical issues will mess up the run for me.