There is something that bug me between the stark difference of certain ranged / throwing weapon type. Bow have their damage neutered to the cores, while throwing Dagger are on the opposite extreme.
This mod aim to bring back the power of bows in original BGEE / SOD. As it focus solely on ITM files, this mod should be applicable to any mod available, including the famous unofficial BG2 Item mod. However I need some kind soul to help me deal with dialogue with WeiDu mod. I am only using DLTCEP for this.
Why this mod? Throwing Dagger have been too OPed in BG2EE, especially with Kensai and their 22 STR fire giant belt. Bow in comparison have been completely outclassed due to meager damage. Benefit of dagger include:
1) Str bonus apply
2) Damage bonus from enchantment applies
3) Unlimited ammo (at very early game and is up to +3 enchantment, only a +4 arrow or bolt is better)
4) Usable by any class (except Priest)
5) You can equipped a friggin shield while throwing a dagger! (Not applicable to Kensai who is the king of TD, but still...)
This mod aim to enhanced Bow back to the olden days, so as to provide a strong competition / alternative to TD. Certain rule are applied to this mod for game balancing.
1) No launcher will give >5 damage bonus.
2) Standard +x damage bonus from +x Enchantment applies, for both BOW & ARROW.
3) Follow BG1EE rules where CLB give extra 2 damage from LB & SB.
With this in mind, I have edited the files to follow the rules of damage from BG1. All magical bow will follow the standard rules as +x damage based on x enchantment except for:
Strong Arm +2: Deal 1 extra damage higher than typical +2 composite bow due to 19 str requirement
Others out-of-norm changes:
Ripper +2: +1 extra Dex to distinguish this bow from usual +2 CLB
Firetooth +5: +1/2 APR to compete with the best BOW in game, APR bonus is only available after upgrade from bowstring of Gond.
Example of bows after modding: (with a lvl 10 GM Archer)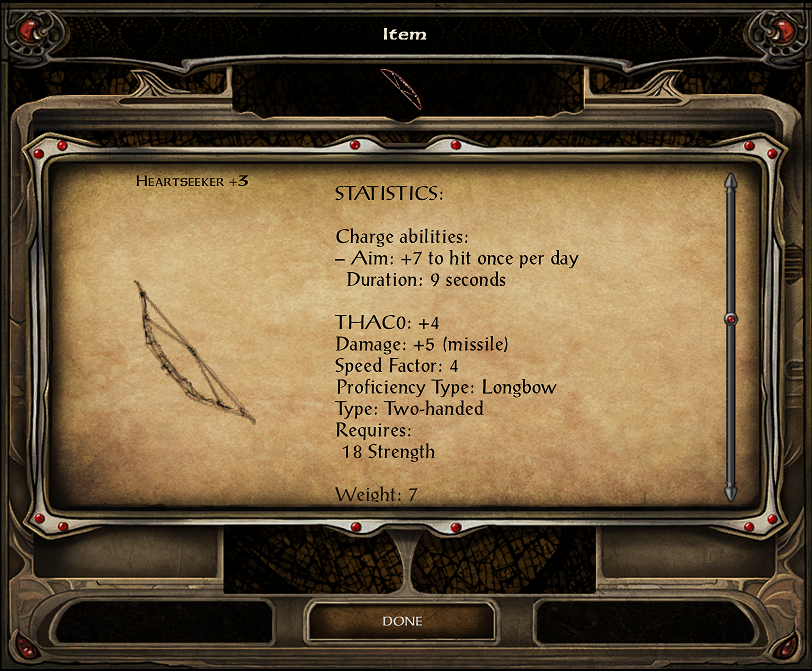 A comparison of end game BOW (after mod) vs TD used by a 19 STR Warrior:
Highest possible based damage (BOW): 1D6+9 (Bow & Arrow)
Highest possible based damage (THROWING DAGGER): 2D4+10 (19 STR, not including 1D2 Fire damage)
Still no fight, but at least the power gap is more reasonable now.