(4/30/2020)
Welcome to the new and improved Isandor experience. Dubbed 'Kingdoms'. We've been working around the clock to bring this update and it's now here!
World of Isandor - Kingdom's is a major update to our persistent world now accessible from our Companion App.
We've expanded the Isandor Lore beyond just the 'lost' style island your stranded on. You can now explore the continents and even take over lands, 'fiefs' or zones. We will get into that shortly.
This is now the World of Isandor. Your initial starting point is stranded on the isle of Isandor. Having to figure out how and why you got there and establish yourself with others a village or common refuge against the many dangers of the world.
With the Kingdoms Add-on. We've made it so that you can now take over points on the world map (By travelling to the point ingame and claiming it) . Once claimed you can govern your land to be what you suit fit. To access this land you'll have to build a Docks on the Isandor islands and built a boat to sail off to that land. Or travel with other player merchants.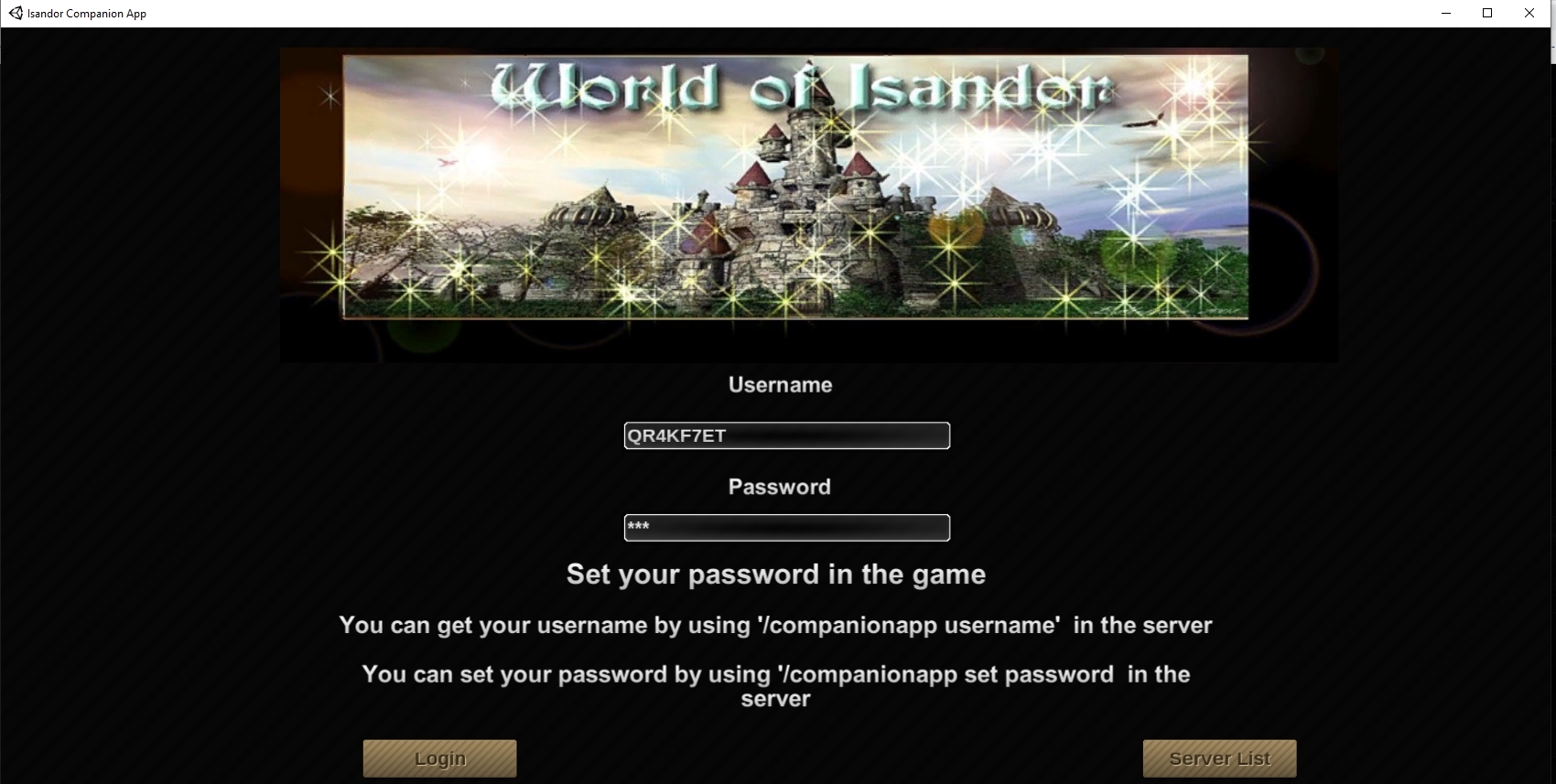 Using our new Companion App (Windows/Android) you can see the world map. Your info and basic info of the world. From here you can enter Kingdoms Mode to administer or govern your lands you've claimed ingame.
The location that was taken over is in green. GUI Explanation
A) Starting from the coins Icon. That would be your copper coins bank (once you build a kingdom bank) that is used for trade with other kingdoms.
Building Resources - Shows how much building resources collectively in all kingdoms you own. (We are limiting it to one for the moment)
C) Research - This shows how much research points your kingdom has. Used for crafting (+ Crafting modifier)
D) Population - Shows how many civilians are in your kingdoms as a whole. Civilians can be converted to workers, soldiers or knights.
E) Soldiers - Shows how many soldiers readily available to be created and can be henchmen ingame.
F) Rations - Global Rations. Used to feed your people and yourself. if built a Kingdom Tavern you can deduct rations from this bank to your personal character bank (Or other players)
G) XP Bank - This bank is supplied by the player. You can allocate some of your character's XP to the kingdom. You then can transfer this bank to new characters you create (Which auto-starts as a civilian in your kingdom) or use the XP to upgrade buildings.
We've clicked on the site which we've taken over ingame.
The site was barren. We've built a small building ingame to store wood and other building resources which adds it to the kingdom's bank. We used that wood to upgrade the zone to a Medium Village. (There will be many more zones to select over time)
We've now upgraded our land from the small zone to a larger blank village. Players that now come to this land will now be a part of the new village. Players then can now build on this land to their hearts content with our custom building, farming, enchanting, trading and shop systems.
Lots more details can be found here:
https://discord.gg/t4p7BDT
We plan to make heavy use of the Companion App to establish trade while your out of NWN. Move your soldiers along the world map. Manage your player/npc village via the app and more.
We've also been updating our official website at:
http://www.wildcardstudios.org/worldofisandor/
Discord:
https://discord.gg/tQkZ82S
Website:
http://www.wildcardstudios.org/worldofisandor/about-isandor/
Server Type: Survival / Roleplaying / Sandbox / Persistent World
Greetings Everyone!
My name is Chass (Chastine) and i've decided to come back to NWN. I've ran numerous PW's that is either cutting edge with lots of custom scripting (i'm a coder by heart). Some can be named such as :
World of Isandor (NWN1)
Xenograph Arms d20 futuristic world (NWN1)
Xenograph Arms II (NWN2)
World of Isandor II (NWN2)
Armistice, A Starcraft Inspired Realm (NWN1)
What I want to do is bring back the cult classic Isandor I for NWN1. I miss NWN and I miss Isandor the most. Since EE is released maybe there will be a good group of roleplayers here.
Persistent World Description:
The world is a lush continent full of fallen civilization materials, Ranging from broken towers, castles and old homes and prisons. They are few and far inbetween. You'll encounter lots of plants, animals and materials that you would have to survive with. The continent is huge. Lots of space and lots of materials for you (and your clan, soon to be village or bustling player city) to work with. Create your own religion (if it gains enough followers the 'gods' may gift you important things. Create your own village rules. etc.
The world is designed to be sandboxed completely. We omit a lot of rulesets and character creation is open (within reason of course).
We will have a multitude of features such as :
Custom Crafting (Chass' Recipe Crafting System)
http://wildcardstudios.org/games/isandor/isandor-crafting-system/
With our crafting system you no longer sift through pages of pages of CNR recipes, You create them in realtime. Copy and share your recipes with other player villages. With our custom classes each class must rely on eachother to craft materials and borrow recipe sheets to make the target items.
The Isandor Home Building System
http://wildcardstudios.org/games/isandor/isandor-dynamic-housing-system/
Our world is very dynamic. Players can build home interiors using various styles listed. Also with our building system everything is persistent*. You can build your own homes and interior materials.
Custom Spells (Vocal Spells)
Fishing, Farming, Home Building, and so much more.
Custom Village System inspired by the mobile game Shop Titans.
The world is a very expansive continent. The setup is made so you wont get lost however you'll almost always run into another player.
We want you to play and have fun. There is only a base set of rules on the server
Death and dying in isandor :
http://www.wildcardstudios.org/worldofisandor/death-and-dying-in-isandor/
-6 Second PVP Rule
-Respect players Out of Character, Character roleplay styles and ignore spelling and grammar mistakes.
Isandor Features\
—————————-
We dont like to brag or show off… okay. Yes we do.
Here in Isandor we offer the following features:
Custom Placeable Building System
-This System allows you to build placeables anywhere in the module.
Custom Home Exteriors
– We allow you to build placeable homes using NWN's external homes. Build your own village, city and even furnish it with our furniture system that boasts well over 4,000 Placeables
Custom Home Interiors
– Included with the building system are home 'Interiors'. These interiors are tied to the 'Interior Door' and is always instanced making it so that you can literally build your own housing interiors. Ranging from small homes to large towers. Check the website out for a quick view of the housing interiors prior to building them ingame
Isandor Ration System
– Our system isn't too hardcore about food. You consume food to stay above 0 ration points. if you fall below 0. You are considered starving.
Survival and City Building Atmosphere
-This setting is mostly about surviving. Thriving and establishing a mark in the world. Join players in your own or other's player villages. Create rules. Trade with others or grow the village into tiers.
Building Tier System
Each tier of your village settlement unlocks bonuses to your crafting and structures you can build. Harness Electricity in a Tier 2 Society or Steam in a Tier 1 society. Create Doomsday scenarios in a Tier 5 society or thrive!
Build Fast Travel systems
Fast travel would be Sea Ships, Air balloons and fast travel points. Build your own ships after you build the Docks Interior. Which allows you to build your own ships. Various ships offer various sizes which you can use to store goods or equipment. etc. Use it to travel to various player points in the world.
The world needs players! Give it a try! you may even like it.
It is much different that other worlds.
How to build a home in Isandor:
How to build a home Link