Mistledale, a new persistent world server for Neverwinter Nights EE, has just opened for beta testing. I'm very grateful to everyone who tries out the server, and I'd love to hear your feedback.
We have a website, at
http://www.mistledale.com/
, with a forum.
This video has more information about the server: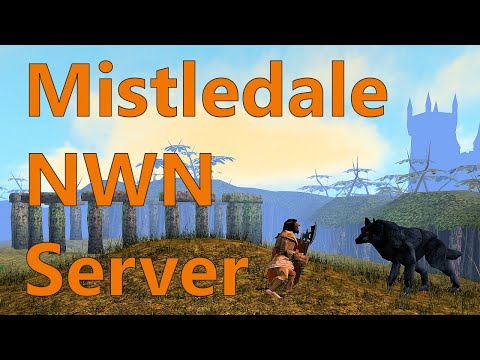 Mistledale is an action-packed persistent world for NWN:EE with a strong focus on creating an immersive setting and interesting storylines.
Players advance by exploring the world, delving into dungeons, carrying out quests and finding hidden places and enemies to defeat.
Mistledale is an accessible server which does not require any downloads to play, other than the NWN:EE game itself. It is designed to be challenging and offers a medium to low magic setting.
The server admin is Palmer, who help to create a NWN server called Battledale some years ago.
Features include:
• Quests and puzzles
• Hidden boss monsters with a chance of dropping magical loot
• Respawning traps in dungeons
• A fast travel system
• Players may rest to recharge spells and abilities every five minutes
• Experience for discovering new places
I'd describe the server as roleplaying-light. There's a lot of detail in the world to encourage roleplay, but we don't have any of the restrictions that exist on some roleplay servers. You're free to go into dungeons and level up as much as you like, for example.
The server is in beta, and currently has content for a group of players up to around level 10, or for a solo player up to level 13 or so.
Even when it is finished, Mistledale will be smaller and less ambitious than some of the more established servers. But the goal is to make it a lot of fun to play.