Finished my first playthrough (Reviews for Original Campaign and Aribeth's Redemption modules)
xiaoleiwen
Member
Posts: 172
"CHARNAME":
Finished my game at level 25 (Fighter / Paladin / Champion of Torm build)
The build I followed:
https://www.tapatalk.com/groups/nwnecbguild/divine-warrior-paladin-6-fighter-8-champion-of-tor-t515463.html
To remember my companions in OC:
To remember my companions in AR:
( I changed the portraits)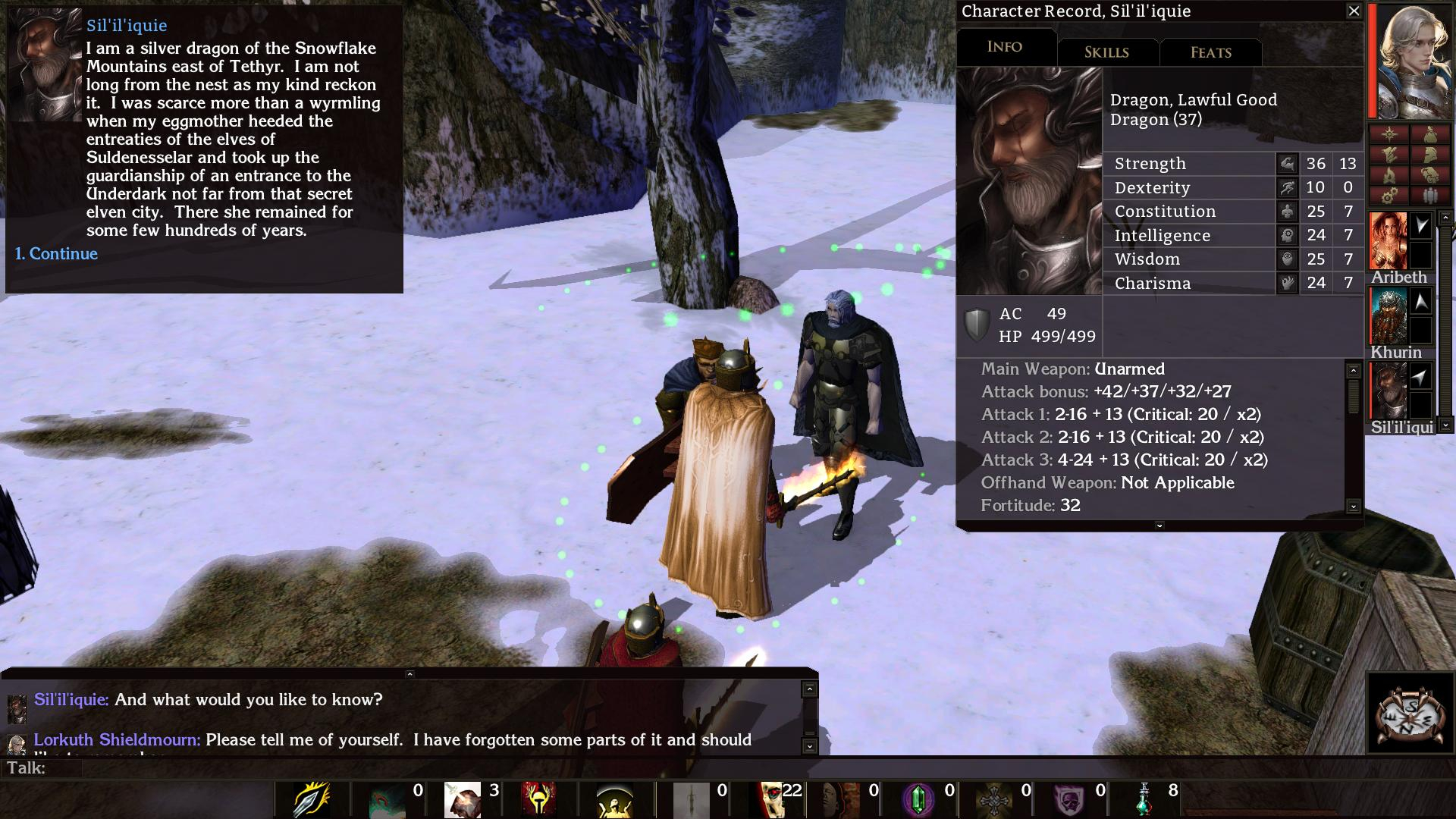 Review for Original Campaign:

Pros:
Still recommended for those who love Faerun's lore as OC allows you to explore and learn more about Neverwinter and Luskan, the two famous cities very close to Sword Coast and Icewind Dales that BG / IWD fans love so much. The main quest also brings out the interesting lore of ancient races that I was totally unaware before. OC is probably better than BG series in term of experiencing the lore, and you will have the chance to find out why Neverwinter is "never winter".
Aribeth is probably the most and the only worth mentioning NPC in OC. Her story may bring out some controversial topics that could be worth discussing, such as whether she is guilty for what has happened, or how her punishment should be.
The role-playing part of OC is actually quite good, there are a numbers of options and reactions based on your class, alignment, stats etc. RP part is actually better than many WRPGs.
Perhaps not many, but some major side quest are actually quite decent, and I would say some are as good as BG2 side quests.
Some NPCs dialogues are quite fun, it makes me think that "in the end OC is still a game written by Bioware" (no matter how many people say it is badly written).
I thought the companions are badly written (due to OC's bad reputation), however, it is actually not, as I like some of their personalities and kinda enjoy their backstories. Tomi told you funny stories, and I thought we could only find clumsy elven cleric in Japanese animes, really enjoy seeing how she ruined everything.
Cons:
The first main quest to locate four creatures in Chapter 1 is slow and boring, especially if you follow the "official" order (as suggested by Aribeth), because the first one is the worst- long and boring dungeons with endless fights, just for that little bit story, very discouraging.
The main and side quests always follow a similar pattern in every chapters, as those quests always need you to visit 3 or 4 different area to complete them. A lot of NPCs also talk in similar pattern, you will ask them same questions and get similar answers.
The lore of the story is good, some twists are actually enjoyable, but generally the story is still too predictable. It may not have a bad story that hurts your eyes, but it is banal and nothing really special.
No interjections from companions.
Playing time: 97 hours
Story: 6.8
Encounters: 6.5
Areas: 8.5Review for Aribeth's Redemption:

Pros:
There are not many RPGs that you can have adventures with your wife.
As a post OC module, the enormous efforts in the word building via detailed and logical NPCs reactions is highly appreciated.
You may think a romance module will just focus on romance with your girl, in fact, all NPCs are written with loves and they have interesting backstories. Greatly enhanced the feeling of adventuring through these post-war regions.
Aribeth here may not as good as the best written NPC from professionals, but she is well written enough as you can see how she changes gradually and grows as someone who suffered so much previously. Some of the interactions with her are touching and heartwarming. It's great to see her getting happier daily, and you are playing this module because you want this to happen, aren't you?
Some PID with Aribeth have a ton of role-playing options which bring out a totally different wall of texts, which is a work of love that you can hardly see in most WRPGs.
I would rate the quality of Chapter 3 close to 7.5 as the structure and storyline of each major plot are actually quite good (the way the author obscured the real plot, companions' backstories and their involvements in main plot etc). IMO it just needs some polishing for certain minor parts that do not look too "professionally handled", and these quests will be comparable to those decent major side quests in professionally written WPRGs.
The economy in this game is quite good for an epic level module as there is reason for looting due to the cool upgrades that you can get. Money is more useful compared to the late game of OC.
OC actually has a grand plot but it was relatively poorly delivered due to the easy victory against such an epic villain. AR module expands this storyline, while it may not necessarily provide more depth than OC, it has successfully made the enemies more epic. Some of the battles are so epic just looking at who you have to fight.
The perfect ending of "The Hero of Neverwinter Saga".
Cons:
I enjoy the beautifully written dialogues here but it is too verbose for a post OC story as this will remind you that it is an unofficial story. The dialogues are sometime too meandering and lack of coma and full stop.
Some vanilla NPCs are slightly out of character initially, however, this gets better very soon as they are lack of characterization in OC actually.
This is probably the best punishment for Aribeth, however, too many similar dialogues from different NPCs trying hard to tell you that it is an unanimously accepted fact that Aribeth is not guilty, which I found not so convincing considering how the mob demanded Fenthick's death previously. Fortunately, there are some NPCs outside the court who strongly disagree with the verdict, which makes me feel better.
Some of the author owns interpretation of the religions in Faerun do not look lore friendly enough for me, especially in Chapter 2, but this gets better in Chapter 3.
The mentioning of "Italian" in the game is totally fourth wall breaking.
Playing time: 60 hours
Story: 7.2
Encounters: 7.2
Areas: 7.8OC+AR Overall:

Playing time: 157 hours
Story: 7.5
Encounters: 7.2
Areas: 8.5
TLDR: A great adventure when these two modules are played together.
Post edited by xiaoleiwen on