Earlier this year, I did a Black Pits run:
http://forum.baldursgate.com/discussion/16523/black-pits-faq-guide
Then, despite moving irl, the team moved on to a BG run:
http://forum.baldursgate.com/discussion/18587/nonsequitur-roleplay-run-it-s-not-a-party-if-you-leave-with-all-your-teeth/
Then, moving took longer than expected and I was informed I have to start a new topic/run instead of picking up the old one. So here we go:
This will be a wacky roleplay run with pop culture references and random silliness and tell the ONE TRUE CANON of this epic tale.
The New Cast
@KidCarnival
- Eye of Helm: a nearsighted beholder paladin of Helm (Cavalier, Lawful Stupid/Chaotic Lulzy multi alignment; Katana/Long Sword via telekinesis, tank)
@Anduin
- a mummified snirvneblin mage/cleric (Necromancer/Priest of Cauli multi class, Chaotic Chaotic; Quarterstaff/Sling, casting machine)
@Southpaw
: a mindflayer swashbuckler (Lawful Evil, Short Sword/Short Bow, traps/locks/pickpocket)
@OneAngryMushroom
: a myconid ranger (Chaotic Good, Quarterstaff/Long Bow, enemy Giant Spider, damage dealer)
@Kamigoroshi
: a oozemaster druid (Avenger, True Neutral, Clubs/Darts, support caster)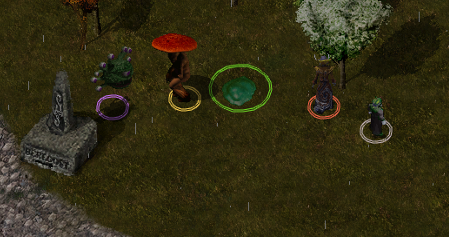 The Quest
We drank something strange in the Crosseyed Cyclops Inn in the Underdark and appeared as surface dwellers to Baeloth and Najim, who later sent us to the surface. Now we want to find a way back to the Underdark, break the spell that disguises us as Helm-knows-who and then sue the Crosseyed Cyclops Inn with the help of a Duergar lawyer named Olgoth Facesmasher.
The Previously Open, Now Taken Slot
Ideally, we'd like to run with a 5 PC party and leave a rotating slot for NPCs. We are looking for:
☼ either a bard or a druid (kit or vanilla doesn't matter, but jester or avenger is preferred) OR a Thayan Wizard (any school but necromancy, can be dualed from other class or sorcerer) as support caster
☼ doesn't have to be an Underdark race, just something that fits through doors, isn't unfixably slow and exists as sprite in EEKeeper
☼ weapon prof that isn't taken yet (except mage/sorcerer can pick Quarterstaff, enough to go around with Mage Staff item mod in High Hedge)
☼ active forum poster
☼ being familiar with some of the following will greatly help to understand the references: Lost, Heroes, Monty Python, Game of Thrones, Walking Dead, Falling Skies, Star Trek, Babylon 5, Lord of the Rings, Stargate, American Horror Story, Marvel Comics/X-Men/Avengers (and probably roughly 25 other things before we reach Bandit Camp)
Random Tagging
@Anduin
@OneAngryMushroom
@Southpaw
@Eudaemonium
@Kamigoroshi
@Malicron