Dark Dreams of Furiae - a new module for NWN:EE!
Buy now
[UI Mod in Progress] Vanilla BG-Style Record Screen
Warning
This mini-mod is now abandoned. If you liked it, I strongly suggest you check out my modded Dragonspear GUI:
https://forums.beamdog.com/discussion/62618/revised-dragon-scale-ui-for-sod-v1#latest
Dear people, I would love some feedback/tips on this.
I've been tinkering around with the record screen in order to make it look more like the original one from BG1 (at least the layout).
So what do you guys think of this thing? The attached files are merely for testing purposes - I still don't know how to make a WeiDU version that integrates with other GUI mods and doesn't have to completely replace UI.menu.
Edit October 11: Prototype Version 2 is now online.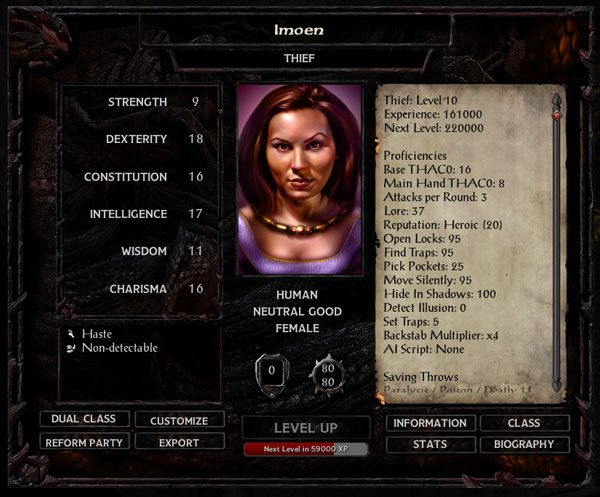 To be honest I've got big plans for a complete overhaul of the current UI in favor of a more BG-classic style of sorts but since I've no experience with LUA (or UI modding) whatsoever, I'm starting out slow and maybe recruiting some folks to the cause.
Let's see if anyone else's interested.
Post edited by Kilivitz on