Inspired by
@Basillicum
's feature request for a much-needed wand case in the game. Feel free to post any suggestions or comments you may have.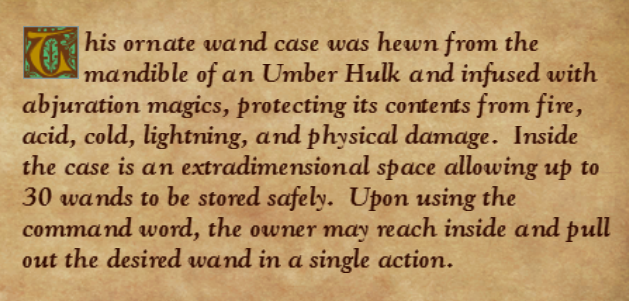 The mod is attached to this post as an .rar and the files are WeiDU-installable (many thanks to
@Alkalurops
for the WeiDU-ification for both the BGEE and BG2EE versions). Installation instructions may be found in the readme file for each folder.
The CLUA code for the item is "wandcase" -- it's also available for purchase from Thalantyr at High Hedge (AR3202) in BGEE. In BG2, it's available at Ribald's Adventurers Mart (SoA) and the Saradush Tavern (ToB).
*UPDATE 10/28/13:
- Updated WeiDU (fixed missing description on first install)
- Moved item to new position in store (right after potion case)
*UPDATE 11/15/13:
- Wand Case now WeiDU-installable for BG2EE.
*UPDATE 01/09/16 - v1.3:
- Polish Translation
- Fixed BGT and Tutu store patching
- Added EET and vanilla BG2 support