Yesterday I decided to recreate a character I've been relatively succesful with once in the past, an elven Thief/Mage kitted as a Swashbuckler. I did this because my no-reload performances with my last five characters have been less than stellar to say the least:
- Bounty Hunter (killed by Jenkal in Gullykin)
- Cleric/Thief 1 (charmed in Cloakwood Mines)
- Wizard Slayer (killed by "pnp Battle Horrors" in Davaeorn fight)
- Cleric/Thief 2 (stunned and killed by Rayic Gethras in Athkatla)
- Transmuter who could only cast Alteration spells (kissed to death by Shoal on the Sword Coast - she was a female charname and I thought that Shoal only kissed males; I might continue her run if I learn to bear with minimal-reload).
In other words, only one out of five made it into BG2, and even that one didn't last very long there. I still have a run with Aya the Avenger, which has evolved into a roleplay adventure. I shall continue posting about her progress
here
.
The purpose of the present run with the Swashmage is to get her into Amn as fast as possible, because it's been a while since I last played SoA & ToB (except for a few quests with the Cleric/Thief). So unlike previous runs I've journalled on the forums, this one will be a more technical run in which I'll be more generous in using my metaknowledge of BG1. I'll be solo'ing most if not all of BG1, for quick experience gain even though I shall adhere to the XP cap. I'm still debating whether or not to pick up Coran for romance purposes. If charname makes it into SoA, gameplay will likely change because my knowledge of SoA/ToB is (even) less comprehensive than that of BG1. I'll probbaly end up using various NPCs in SoA & ToB.
So here is Gylliane: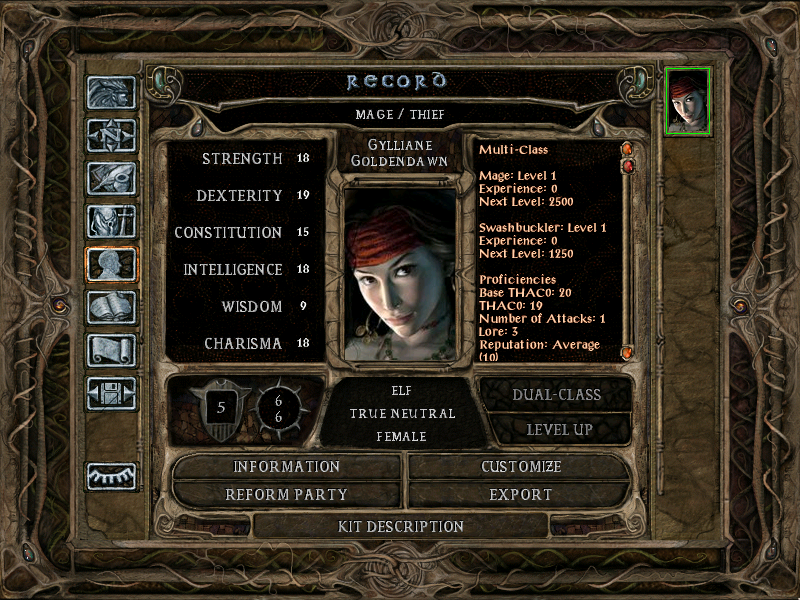 My mouth fell open after about about 20 minutes of rolling for good stats...
For pure powergaming purposes I should have invested more in WIS, for Wish and lore, but I always want my Swashies to be highly charismatic and I wasn't willing to compromise on physical stats or INT, so this is how I redistributed her rolls:
She starts out with two pips in Scimitars. At levels 4 and 8 she'll invest proficiency points in Two Weapon Fighting so that dualwielding becomes viable by mid/late game. In the beginning she will be using her shortbow quite a lot, despite her Thac0 penalty for non-proficiency (which is partly offset by high DEX). The thing is that the Swashbuckler doesn't get many proficiency points to spend, compared to other 'fighter' types. And for a multiclass Swashmage, progression is even slower in this respect.
Backstory/Personality:

She trained for years with the Candlekeep guards but rather than copying her instructors she developed a fighting style of her own, relying on her agility and preferring light or no armor over the movement restricting heavier armors the guards would use, and slender curved blades rather than the more common but weightier longswords and bastard swords. Her fighting style makes her a fairly good dualist for a beginning adventurer but it also makes her vulnerable against groups and archers. Fortunately Gylliane has an attunement for the arcane arts and she has learned to use some basic arcane spells, thanks to Gorion's teachings, that enhance her fighting prowess. But as many inexperienced adventurers, she'd benefit greatly from more advanced magical training. Spells that buff her as a fighter and spells that strip her foes' protections interest her more than damaging spells or crowd control spells, though she will soon learn that especially the latter may well be indispensable for her to survive as an adventurer. With Imoen she practised certain thieving skills, especially sneaking and picking locks, but in a context of play and even mischief rather than one of formal training.

[I gave her the True Neutral alignment so that she wouldn't be affected by Unholy Blights that some priests cast in SCS (nor by Holy Smites that future party members may cast), but I I'll try to roleplay her true to her alignment. The fact that I'll be metagaming more than I usually do, does not detract from that. The metagaming will manifest itself more in quest order, rather than in behaviour toward NPCs.]
Unlike seekers of balance between good and evil such as Jaheira or unbiased mercenaries such as Greywolf, Gylliane isn't committed to neutrality as such. She's simply a flawed person, too flawed to be good-aligned. For example she adores elegant blades, especially the cutlass and the scimitar (along with the wakizashi and the ninja-to the only blades she's developed an affinity with so far), and she wouldn't hesitate to resort to theft to acquire an enchanted blade for herself. Other flaws include her somewhat quick temper and her resentfulness, both consequences of a sensitive and passionate nature when it comes to her interaction with others. In contrast, she'll often be indifferent about social issues that other people would have strong feelings about. This is due to a distinctly libertarian outlook on life. In her liberal worldview people ought to leave each other alone and at peace as much as possible. However she's highly deferential of life and liberty and disapproves not only of the lowlife murderer but also of the presumptuous paladin who kills a stranger to "enact justice". She loves a good duel, one of her favourite activities, but she's unlikely to pick fights and would resort to bloodshed only in self-defense. She's unlikely to display outright evil behaviour and she may even combat evil, though not retro-actively (to punish or enact justice when the damage has already been done, like the aformentioned paladin might do). Note that indifference may as well cause her to refrain from taking action in a given situation.

I'll post a first installment tomorrow.