The one thing I love most about Icewind Dale is creating such unique characters and watching their personalities bounce off each other as they struggle in their quest to save Kuldahar. It's all in my head, but hey, that's why we all played House and Pirates and Lava Monster as kids: imagination!
Now that I am older, I have come to appreciate using the journal entries in Icewind Dale to document the stories I've created. So, I thought I'd share some of what I wrote.
I haven't much in the way of screenshots, I'm afraid.

Didn't take too many in the early game (and by "too many," I mean "none at all.") So let's see how much I can get away with by just using my writing.
Also, it's called "Lady's Night" because all the characters are women. Why did I do this, you ask?

Because I caaaaan!

THE CAST
[spoiler=Anthium's Biography]Anthium had grown up in the druid groves hearing stories of the beautiful town of Kuldahar, a town built under the warmth of a tree in the icy wastelands of Icewind Dale. So, when she heard that Hrothgar was seeking adventurers to travel to the majestic haven, she leaped at the chance. Anthium is quiet and thoughtful, ever the cautious leader, but if it means maintaining the greater balance, she will not hesitate to fight.[/spoiler]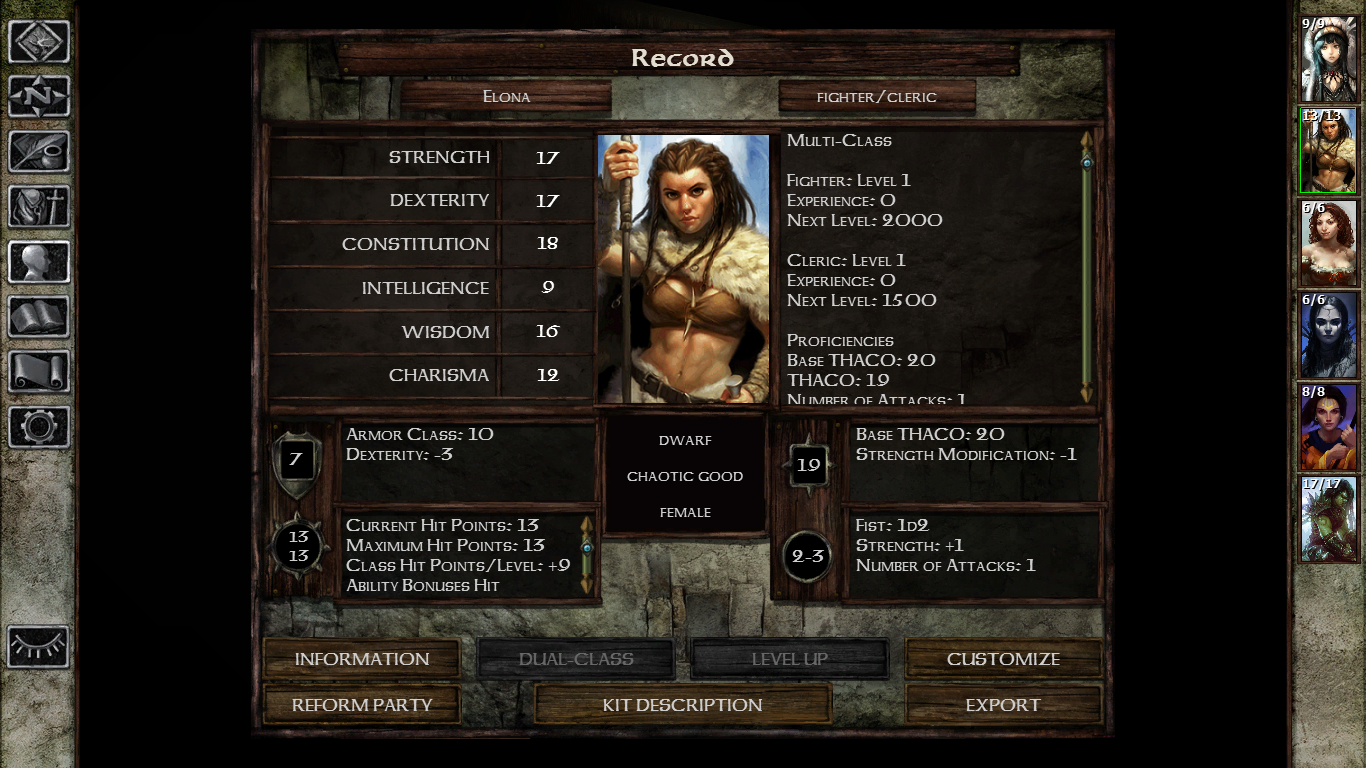 [spoiler=Elona's Biography]Elona is a champion of Clanggedin who seeks adventure and glory in the name of her god. Though often brash and blunt, she has a strong sense of honor and despises any sort of injustice, be it petty banditry or corrupt governments. She came to Icewind Dale in search of the dwarven ruins, and decided that Hrothgar's campaign would serve as a safe means of travel (strength in numbers and all that). Needless to say, she didn't expect the avalanche that trapped her in the frozen wastes.[/spoiler]
[spoiler=Renanon's Biography]Renanon--Rena, for short--is a native to the Dale. She grew up around Easthaven with dreams of becoming a traveling minstrel, but the harsh winters and hard times in the Dale have kept her stranded for most of her life. Finally at an age when she is confident in her music and her swordplay, she signs up for Hrothgar's mission in hopes of recording its events, and creating her first masterpiece. She is the youngest of the group, and a hopeless romantic.[/spoiler]
[spoiler=Midra's Biography]Midra is a mystery to most of the group. In truth, she is an assassin sent to kill one of them. All had been going according to her plan until the avalanche struck, and left her stranded in the mountains with this group of misfits. Midra quickly realizes that if she wants to survive, she'll have to put her mission on hold--while quick with a blade and knowledgeable with poisons, she is fragile in the wastes. Instead, she bides her time in silence among the fools, awaiting the opportune moment to strike.[/spoiler]
[spoiler=Lauren's Biography]Lauren didn't always have magic powers. Apparently her mom had a fling with an elf, and that elf's mom had a fling with a dragon, and nobody had bothered to tell her. And so, after downing a few too many drinks on her birthday celebration, BOOM! The Burning Wizard was almost wiped off the map... By a burning wizard. After being run out of town, Lauren fled north, almost grateful for the chance at a new start in life. Along the way, she learned to control her newly awakened powers, and began a humble career as an adventurer, doing odd-jobs here and there. She suspects she descends from a line of red dragons, which might explain why Icewind Dale's cold never bothers her...
anyway
.[/spoiler]
[spoiler=Bri's Biography]Bri is another native to the Dale, and unlike most of her compatriots, she likes the cold. She'd been abandoned as a baby on the outskirts of a barbarian camp, the Tribe of the Bear. Their leader took a liking to the babe and swore to raise her as his own, but the other warriors were hesitant about accepting a half-orc among their kind. They say that while she was sleeping in her cradle, one of the warriors tried to smother her to death--only to be stopped by the child's own, mighty grip when she awoke, and nearly crushed his wrists. Bri quickly learned that the tribe had little love for her, so once she was old enough to make it out on her own, she left to forge her own path. She's seen plenty of bloodshed in her days, and cares little for morals so long as it means coins in her purse.[/spoiler]