Hi, I couldn't resist the temptation to post this screenie of my fighter-thief, "Kat". The screenies were just made in my current IWD:EE run. Notice the number of kills at the bottom right.

So, she's my "devil cat", my black cat familiar, and, her name spelled with a "K" is also inspired by the new "Gotham" series, as the relationship between Bruce Wayne and Selina Kyle, aka "Kat" is fast becoming a favorite theme of mine.

I am pretending that she is my cat familiar, since I am playing a sorcerer in this run. I am now kind of enjoying the idea of having my familiar be a magical being who can shapeshift to human form and be an actual party member, while her "true form" stays secreted away in my pack. I think she's pretty awesome.
I got the idea because of how closely bonded I was to a beloved black cat, now sadly deceased, who was my beloved cat daughter for 13 years of my life. (Wait - it was 13 years. Talk about black cat related superstitions!)
I was crushed beyond what I can express when she passed. I absolutely, definitely had to make a saving throw against dying myself, and I absolutely, definitely lost a permanent point of constitution, or maybe even two or three points. I still miss her.
I had named her "Ariel", actually intended as a variant on the name of the archangel Uriel or Auriel, though I found out later that the Hebrew root "Ariel" also means "Lioness of God". Here are two pictures of her: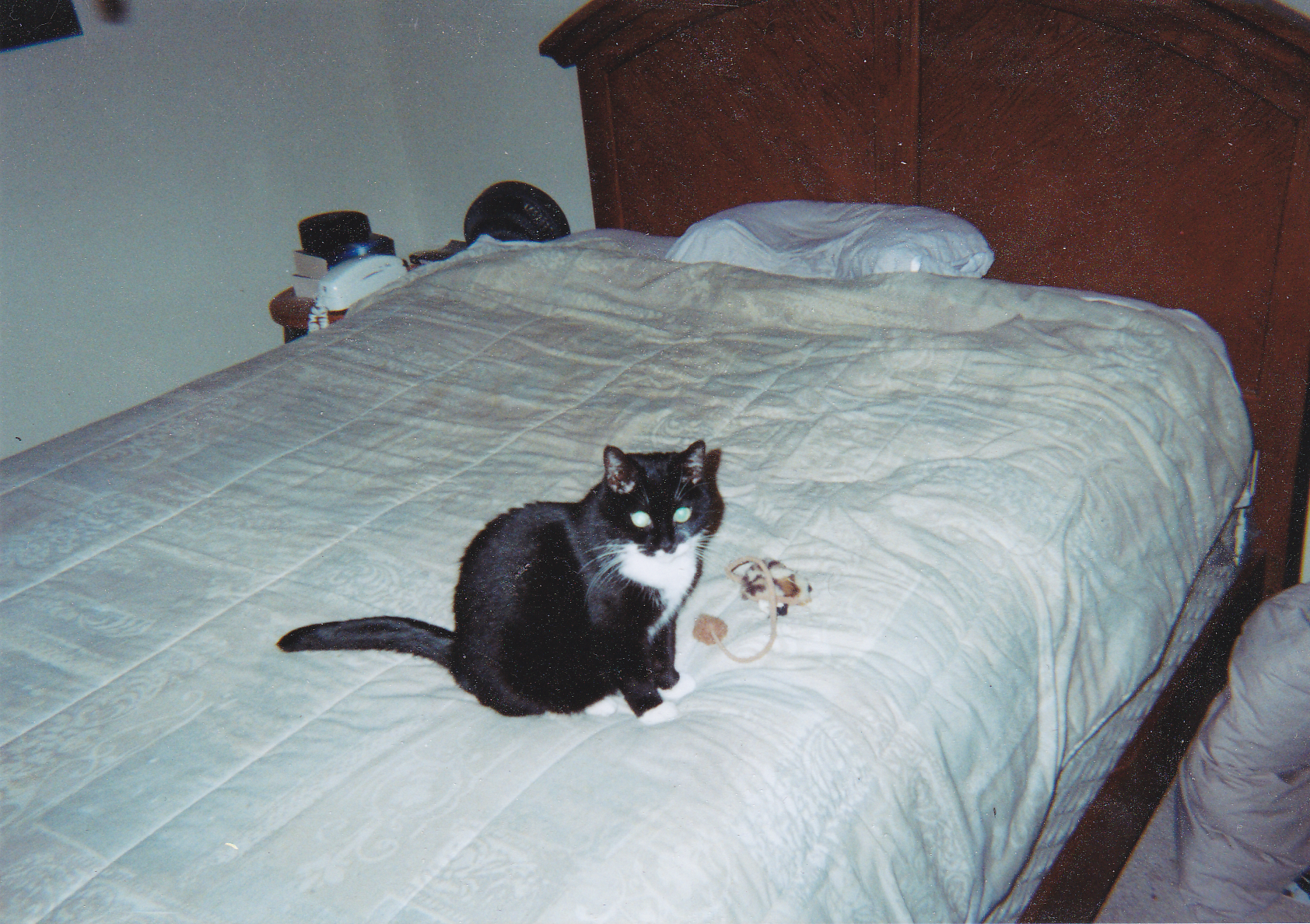 I wish her eyes could be seen in all their green-yellow intensity in the photos, but unfortunately the camera flash kept reflecting in the depths of those uncannily intelligent eyes of hers that could then not be photographed well.

Anyhoo, my "cat familiar" fighter-thief has the "lion's share" of kills in my four-member party now, thanks to her being a "beast" with the Bow of Sseth, and her use of sneak attacks. Here are a few more screenies, if anyone's interested.