Biography of a disturbed fate
Loldrup
Member
Posts: 291
I found
this great portrait
for my human female level 4 mage -> thief (EEkeepered to Shadowdancer). I decided to write a biography that would suit the sad expression in her portrait. This is my result (note: I'm not native to the English language).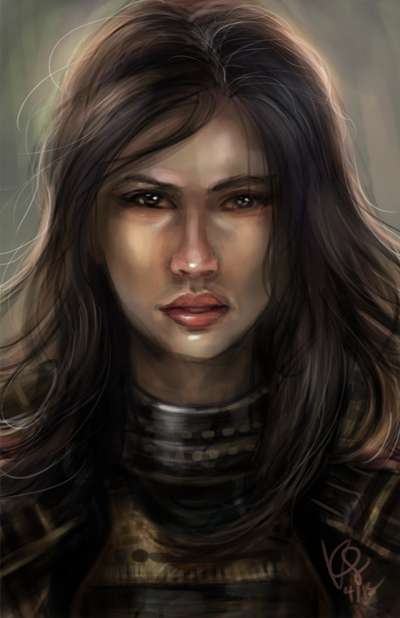 Lilliad grew up as a happy child. Gorion took great care of her. She played around him when he worked and he jovially took part in her fantasy, always adding his own little twists to her tangled storylines. As a consequence, her growing years were his least productive period, intellectually. He didn't mind. He had already accomplished much, and had no desire to impress the world. She was very fond of him. She trusted him, even though she knew nothing about the nature of trust. She had never experienced anything opposite to trust. With Gorion being her only parent, her connection with him was extremely close. Even in her teens, her bond didn't fade. She was playful and touchy in her childish way, almost bordering to the inappropriate. Gorion were welcoming and warm to her approach, but still steady as a mast, never letting her cross the lines. Being a child, she didn't fully understand the intricacies of sexual relationships and he gently insured that he was not the one to teach her these aspect of life (note: here I'm not referring to the sexual act (as in 'incest'), but rather to the complex social dynamics of adults sexual relationships (if in doubt, read some evolutonary psychology)). Gorion found it convenient not to touch those aspects. One could say he was a bit cowardish in this regard.
By nature she carried a reserved personality. She could never imagine anyone remotely sharing the role of Gorion in her life. Candlekeep, being a somewhat small community, only provided few candidates for close relationships. One of them was Imoen, the daughter of the innkeeper. She was the only child she kept a steady relation to. When Gorion got boring, or she felt adventurous, she would seek out Imoen. Imoen was her lens to the greater world of Candlekeep. Imoen would always be a step ahead and Lilliad always reluctant to follow that step. But she trickled her mind, and in her own pace, she opened up to Imoens world.
Only late did she open her eyes to other people. In her mid teens, a student arrived from Baldurs Gate. He was a few years older than she. For more than a year, she didn't notice him. He was not part of her carefully selected world. Only through Imoen did she start to notice the several young people who studied and lived in Candlekeep, including him. Indeed, especially him. He was made for her. She knew it. He played with her, just like Gorion did. Over time they grew closer. He was tender with her, and never approached her too fast. Yet still it came to happen. There was no natural brake on their playful interaction, and one evening she lay with him. She spent the night with him. It was the most intense and fulfilled moment of her life. She could hug him and hold him forever on.
The reaction came sharp and brutal. Rumours. Bad mouthing. Sarcastic remarks. She had known none of this before, had never known what it was all about or why it came to her. She still didn't know, yet she felt a tremendously strong shame. She had done something wrong. She was dirty. She knew it. Yet, she knew not why. She had had the greatest moment of her life, and now she was convinced it was horrible. Gorion could do only little to relieve her. He realised too late, that he had not prepared her properly for this aspect of life. Knowing how secluded she was, he blamed himself that he had not done more to teach her the more bleak realities of social life.
Shortly after, her love was taken away from Candlekeep. His parents had come to know of their relationship, and deemed it unfit. He was taken to a larger school in Neverwinther, and she never saw him again. He was just gone.
The following years, in her late teens, she thought much of what had happened. She contemplated the joy she had known. The happiness that she had lost. She began to study those aspects of social life that had hurt her so much. She studied human nature. Not in the way that others would do, through socialising, but through a strictly rational approach. She studied and learned the intricacies and idiosyncrasies of human thought and morale. And she didn't like what she learned. The crave for competition, the willingness to skew morality to own advantage, the preference for coherence over truth. She realised that something as imperfect as humans could never have been created by gods, and she lost her faith in them. Her childhood innocence had quickly withered away. Too quickly. She adopted a more cynical, pessimistic and indifferent view on the human life. She gave up her school's training in the arcane arts. Dutifully she had followed in Gorions footsteps, but now she couldn't keep her motivation. The illusions that had carried her understanding of life was gone. In this period, nothing really mattered to her anymore. She even stopped liking her own name. 'Lilliad' was too joyful and carefree, she felt.
She adopted Imoens lifestyle, taking a greater interest in how to exploit human settlements, rather than in thriving in them. She used her knowledge of human nature to see how people's attention can be manipulated and diverted. She learned how to hide in plain sight, pick people's pockets, crack their locks and other manifestations of superficial social cunning. She would smile inside, when she lured a target in order to get her ways. She felt that she had finally learned their ways of manipulation. That she could beat them in their own game. Of course it was only an illusion. Her little tricks had only a passing resemblance with true social understanding. How little she knew.
Gorion saw what happened and felt remorse. There was little he could do now. He felt that his advice had no longer influence on her. To her, Gorion was part of the naive world of her younger self. The world she had lost. She couldn't figure out how to fit him into her new world, her dystopian reality. Still, she was deeply attached to him. The break with her love had cemented her in this relationship. His was her one and lasting connection. Her rock in a mean and unpredictable world.
One day, he asked her to pack her things. They were to leave Candlekeep. Just for a while. She didn't know to where, but thought not much of it. She had full trust in Gorion. She had never contemplated that even he could be the victim of the unpredictable actions of a perverted and cruel world. That possibility had always escaped her ponderings. It was probably the work of her subconsciousness. She wouldn't have been able to cope with such a complete loss of firm ground under her mental feet. It would have broken her in her young age.
When they walked out the gate, she recalled her young childhood days, where she would walk with him in the gardens of Candlekeep. It was just like then. Her and Gorion, just the two of them, walking along, living and reliving their happiest time together. She smiled and took his hand. She began to feel that maybe this journey could let her begin to reach for him again. That there was hope that she could reconcile her torn world with his.
But that night. At that spot. Her Gorion was slain to death.
...
She woke up to an especially cruel dawn, in her especially cruel world.
Post edited by Loldrup on