Cool spell, isn't it?
Anyhow, back on my first playthrough of SoD I've noticed that this spell doesn't affect creatures immune to fire.
No damage animation or (even worse) spell failure due to it, nothing; as if the spell didn't work at all. Now, in that run I was playing a Cavalier, he had 100% Fire res from his armor and a potion.
I also had Spell Revisions installed. SR makes some spells work similar to what happens with Inferno, but that only works for spells like Pro Fire; which make you immune to fire based spells.
But my Cavalier had no Pro Fire on himself, and SR couldn't take into account Blazing Inferno.
Hence I was curious; how does this spell work? In vanilla game, short of a baldur.bcs hack, I can't think of a way. So I found out it's a new opcode being used. A lot of SoD spells (like Shaman's Writhing Fog) work this way. If you're Cold immune (from any source), Writhing Fog is completely useless.
I tought, why not make all spells work this way?
So, I took my time, made a small mod that patches the new effect on all spells (well, not all - I didn't take all mod-added spells into account when making this - it's made on an EET spells list as a base). In effect, what this does is as shown below.
W/o this mod:
Poor Dragon Disciple, despite having 100% immunity to fire, still rolls a save and is suffering from damage animation. Why oh why? Even old ToBex had an option to make all casting succesfull on zero-damage instances. Unfortunately, this isn't possible in EE.
Hence, my mod does this: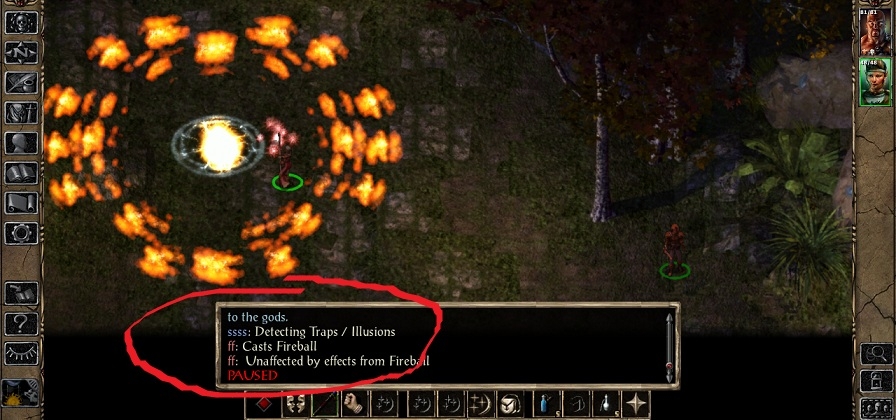 Provided you're fire-immune, no damage animation, no spell failure, nada.
I took a Fireball as an example here, but it works for most of the in game spells - from Grease to Cone of Cold, from Confusion to Dragon's Breath.
There are some instances which aren't black or white (should Death Ward give immunity to Finger of Death's damage effect as well as instakill?) but I think I've got the most ground covered.
I've made this so it will work for both vanilla and Spell Revisions installs.
I'm willing to go an "extra mile" for SR concerning this opcode; but more on that later...I should have the mod ready to download tomorrow.