Hi, I decided I like reporting my runs in this forum, for better or worse, so I thought I'd make a thread for NWN. Over the past week, I've played a Cleric of Lathander up through the first floor of Moira's hostage's house, and needed no reloads. I might start reporting on that run if I don't stick with this one.
Tonight, just for kicks and fun, I decided to start a druid. Sometimes, I like to play a druid in D&D, for a couple of reasons. One, I love cats. I really, really, love cats. I kind of love my cats better than people, and I've had deeper bonds with my cats, and grieved more when they passed away, than with any of the people I've ever known in my life, including my beloved and dearly departed grandparents. If I hadn't felt the grief of my first three cats passing (I was ages 30-42), I'm not sure if I'd even truly understand what grief feels like. Sometimes, I like to immortalize my cats in my games.
Secondly, I have a post oak tree right outside my living room window. I have nicknamed my tree "Silvanus". Sometimes, I like to pretend my tree is "my god" watching over me as I play games as a druid. I know, it's silly. But it makes me happy.
So, here's my new druid, with his panther animal companion. The stat screens are to the left. I've taken Luck of Heroes (+1 AC), heavy armor, and extend spell for my first feats. I like to build the tankiest character possible. I will probably be taking tower shield feat. I know I could get that for free for taking a level of fighter, but I don't like to penalize my animal companion's progression (or my Turn Undead and spell progression for my Sun domain cleric). One of the things I really like about NWN is that you can build your character for roleplay. The game doesn't punish you for not min-maxing, being a munchkin, or not having the perfectly optimized build.
One of the cool things about NWN2 is that, in one of the first scenarios of the game, you can talk to animals, like these dogs who help in the combat. I'm not sure if the NWN2 devs ever followed through with this idea in any of the rest of the game, but it's really cool to see here. I kind of wish they had made more use of it.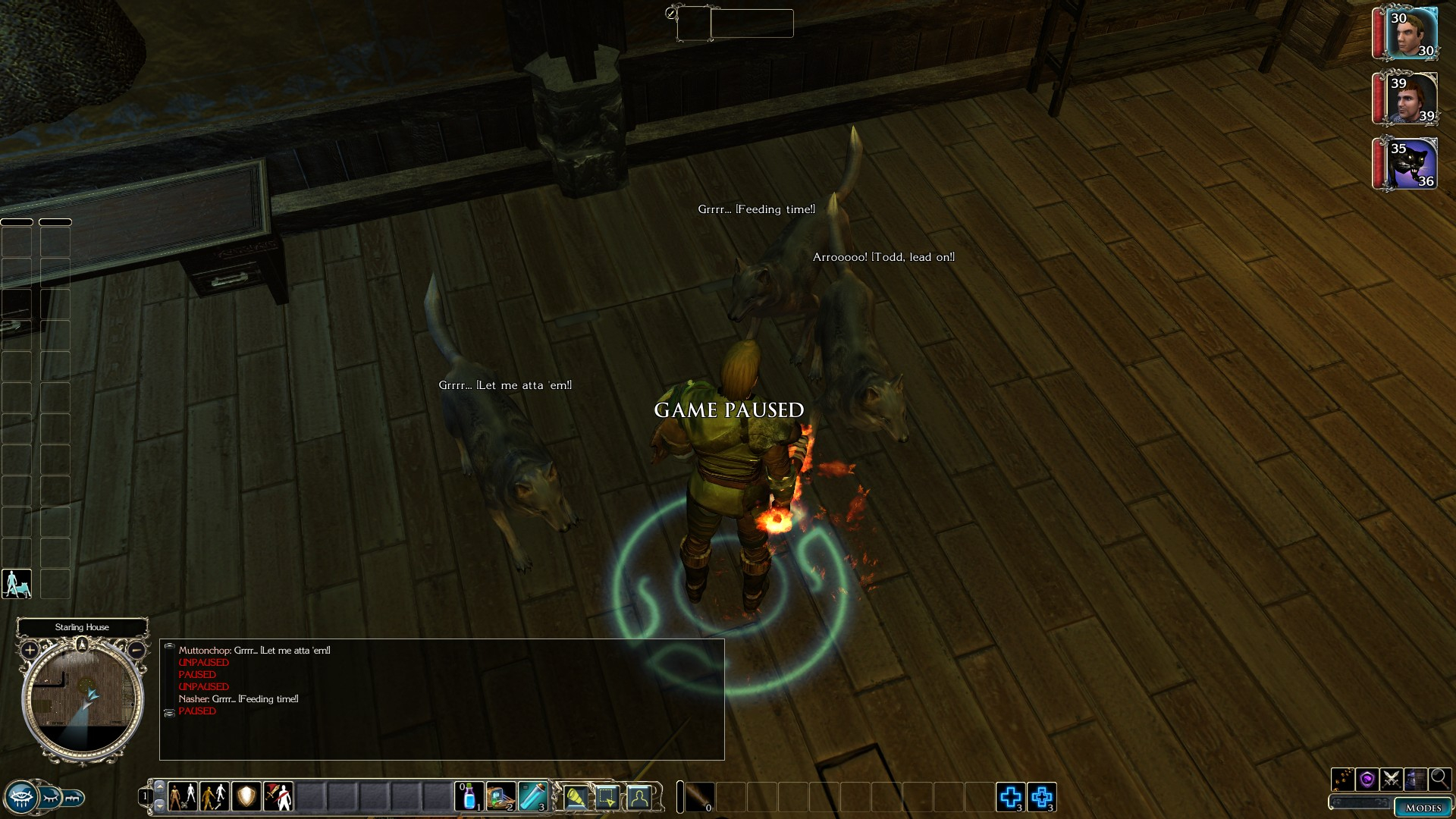 ]
More to come, over the next week or two, or more.
Party Level: 3
Reloads: 0
EDIT: Just to make the dog talk clearer, non-druids and non-rangers just see "Woof, woof, arf, grrrwl, bark" in those screens.