So put simply, I wanted to take a crack at doing a role-played play-through of the Black Pits. First of all, here's the team:
Paladin (Cavalier):
Name: Vivienne Lightbringer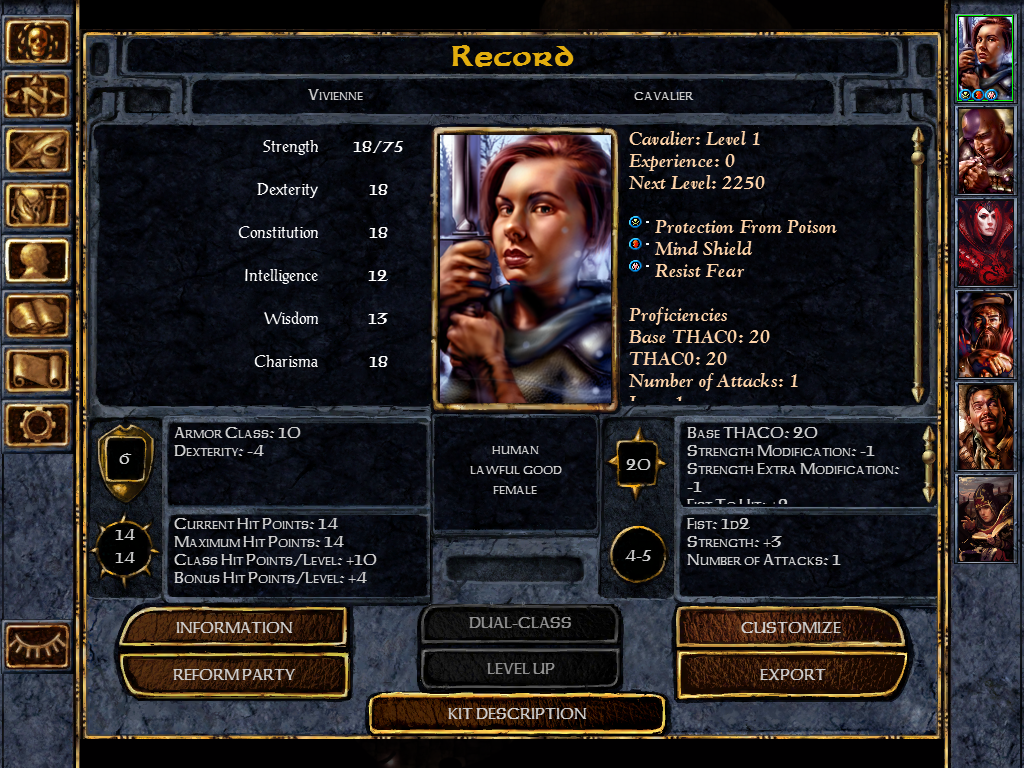 Age: 26
Stats:
STR 18/75
DEX 18
CON 18
INT 12
WIS 13
CHA 18
Bio: Vivienne is a relatively young paladin of Torm. She was born to parents who were both paladins, and she never questioned the fact that she would follow their path. She took to the path with exceptional skill (I was planning for a 93. Then I rolled a 97) and has proven herself a talented member of the order. While resting at the order's headquarters, she was abducted in the night. She will strive to lead this group with wisdom and skill, and keep the whole team safe in their journeys.
Ranger/Cleric
Name: Eryk
Age: 32
Stats:
STR 18/65
DEX 18
CON 18
INT 12
WIS 18
CHA 11
Bio: Eryk grew up in a house divided. His mother was a druid, and his father was a cleric of Lothander. Before running away at age 14, Eryk was forced to deal with many arguments over religion. Despite his hatred of these arguments, much of the philosophy of both parents seeped in to him, and in the end he chose a path that neither of his parents would have ever considered. He became a ranger/cleric. He worships both Mielikki and Lothander, and despises the undead with a passion, while believing in the sanctity of nature. His views on good and evil have come mostly from his father, however, and he does not believe in "true balance" like his mother did. He chooses to fight for justice, though most of his life has been spent communing with nature and hunting the undead. He was grabbed in the night as he slept under a tree, and he longs to escape his gladiatorial prison and flee back to the woods which he so loves.
Monk:
Name: Crimson Drake
Age: 23
Stats:
STR 18
DEX 18
CON 16
INT 12
WIS 12
CHA 10
Bio: Crimson was born a peasant in a small kingdom, and her life was a hard one. Forced to work long hours in the hot sun despite her youth, she was practically resigned to a life of sorrow and early death. One day, however, she saw two men, dressed plainly, walking towards her father and mother. She thought little of this at first, but the four of them talked for what seemed like hours before the two men handed her father a sack of gold and came to her. Her father told her that these were her new brothers, and they would take her someplace where she didn't have to work in the fields anymore. She didn't understand what was going on and thought she had been bought by slavers, and so tried to run away. The men showed an incredible agility and caught her, however, slinging her over their shoulders and carrying her away, though they tried to comfort her with their words. All the while she cried out for her parents, half cursing them for selling her, and half begging for their help. Her cries were meaningless, however, as the men carried her away. Eventually she cried herself to sleep, and when she awoke she lay in a soft bed in a stone room. She soon came to learn that her parents had sold her to a temple, where a group of monks lived. They added to their numbers by purchasing children from peasants, so as to help the parents, the children, and themselves. While the life was far more comfortable than she had experienced before, she was still forced to work, training her body and mind. Her name had been Crimson, due to her hair, but now she was given the last name of "Drake" as well, as this temple was known as the drake temple. These monks were her family now, and family they were. She grew strong, and excelled at the things she was taught. She chose to don crimson robes instead of the simple brown ones her fellow monks wore, and became known as the "crimson dragon". She is a force to be reckoned with, and while kind, she appears incredibly intimidating to strangers. While on a mission to assist a small village near the temple, she was abducted. The monks at her temple worry for her, for the village was burned to the ground and Crimson's corpse was nowhere to be found.
Bard:
Name: Jiro
Age: 36
Stats:
STR 18
DEX 18
CON 16
INT 18
WIS 4
CHA 15
Bio: Jiro is a human bard from Kara-Tur. He was originally the son of a noble and was trained in the art of fighting with a katana, however his father was assassinated and he was forced to leave his home. He had always been gifted with music, and so became a traveling musician. He has traveled for many years, but his road has always been peaceful. He's talented, but quite unwise, having never been forced to do much but wander, fight off weak foes, and perform. Picked from the road while traveling, he has been thrust into the arena. Time will tell how he fares.
Fighter/Mage/Thief
Name: Hawke
Age: 28
Stats:
STR 18/98
DEX 19
CON 17
INT 18
WIS 6
CHA 9
Bio: Hawke is a drunk, a lecher, and a scumbag, but da** if he isn't good. While he may be almost as foolish as Jiro, he's more skilled than any of the rest of the group. He's stronger than Vivienne, faster than Crimson, and as smart as Jiro. Not to mention he's more multi-talented than anyone. He can hold his own on the battlefield, in a dungeon, or in a bar, and he's seen more of the world than any of the others. No one knows much about him, however, as he says little of his past, other than that he's traveled the world far and wide and seen more marvels and ales than anyone. He figures he was captured by Baeloth because Baeloth wanted a drinking buddy. He wields bastard swords, which he says is an intentional pun, and whether you hate him or not, he doesn't care. He'll grin his goofy grin, wink, and laugh.
Sorcerer
Name: Mira
Age: 21
Stats:
STR 12
DEX 18
CON 16
INT 12
WIS 12
CHA 15
Bio:
Mira is an unusual mage. She's neither terribly smart, terribly well trained, nor terribly high-class. She was born as the daughter of an elven blacksmith in a small village. From a young age she found she had magical powers, which she thought was interesting enough, but she never indulged them. She enjoyed her life as an attractive young elf woman in a small town. She was to be married to a handsome young cobbler, but the week before her wedding she disappeared. No one knew what had happened, and many wonder if some creature could have taken her in the night.
And here's the opening part of the story. I'll update more tomorrow, but for now I'm just going to post this.
Prologue:

The group appeared in the pit, looking around in utter confusion. Suddenly Jiro pointed and yelled "Monsters!" The group spun around to see three Tasloi charging them. There were crude weapons laying on the ground at the group's feet, and they quickly grabbed them and prepared to fight.The battle was over quickly, and a djinn appeared, saying that they "qualified" before teleporting them again. They next awoke in a large circular room and slowly stood up as they heard a high pitched voice say "What's next? Ah! This group. Are they awake yet? Up! Rouse yourselves, you lice-laden layabouts. Stand up and salute your new master, Baeloth the Entertainer!" The group looked up to see a grinning drow standing there, wearing exquisite robes. "Who?.." Vivienne asked. The drow outright ignored her and continued talking. "You may also thank me, since your meaningless lives are about to become infinitely more exciting and quite likely… abbreviated. You have been brought here by an unlucky roll of the die. Well, unlucky for you. Gather some equipment, gird your loins, and prepare to fight. Najim, my obedient slave, take care of them. And don't forget to give them a little spending money!" With this the djinn reappeared and began to speak. "As my master commands, take these coins. Speak with the dealers gathered here to equip yourselves. Once you are prepared, report to Master Baeloth. Do not attempt to escape lest he command me to snuff out your life." "Where are we?! What's going on?! I demand an explanation!" cried Vivienne, now quite furious from being ignored before. The djinn spoke again, no emotion visible on his face. "You have been summoned to this island fortress by Baeloth. We are in a complex known as the Black Pits, dug by Duergar slaves. You are to fight in the battle pits for the amusement of Baeloth's guests. I have answered your questions, now prepare for battle." The group looked at each other and sighed. "It seems we have no choice." Jiro said. Crimson piped up. "Wait! Baeloth said you are his slave. Together we could rise up against him!" Najiim looked down, almost sadly, before responding. "I am bound by an undying geas. Otherwise, I would have slaughtered Baeloth long ago." Baeloth, now at the edge of the room, turned his head and grinned. "I can heeeeeear you!" Najiim paid him no mind. "Prepare yourself for battle, mortal. When you are ready to face your fate, speak with Baeloth." Hawke shrugged, grinned, and said "I don't like it, but I can feel the effects of the geas too. Might as well comply for now." With this, the djinn disappeared and the group went to the bedrooms to rest and talk. They talked for nearly an hour, sharing each other's backgrounds, abilities, and opinions on these circumstances. Eventually the group decided that Vivienne was the most qualified to lead them, as she had been trained to lead others, while the rest of them were lone wolves. With this done, Vivienne, Mira, and Jiro went to purchase goods for the group, while the rest of them relaxed in their rooms. They knew little of the harsh battles that would soon beset them...
Hope y'all enjoy!