Since 2009 I painted my own portraits for Baldur's Gate I try learn paint digitaly from some tutorials. Here are portraits of my male Bhaalspawns:
Not 100% Baldur's Gate portrait, but I try my best.
So from left to right:
Erran
Neutral Good
Elf
Half-Elf Blade (Bard kit),
Morzan
Chaotic Evil/Neutral Evil Half-
Elf
Drow fighter/mage and my currantly play
Roland
Lawful Good human Undead hunter (Paladin kit).
If I say true I like my Evil character 'cause for +18 Charisma ok then +17 Charisma for him.
Here is my another portraits for Black pits/Icewind Dales that reminds me I should do new version for The Death Generals Fantasy Gijinka portraits 'cause old art.
*facepalm*
Ok, some characters I drawed from my favourite books: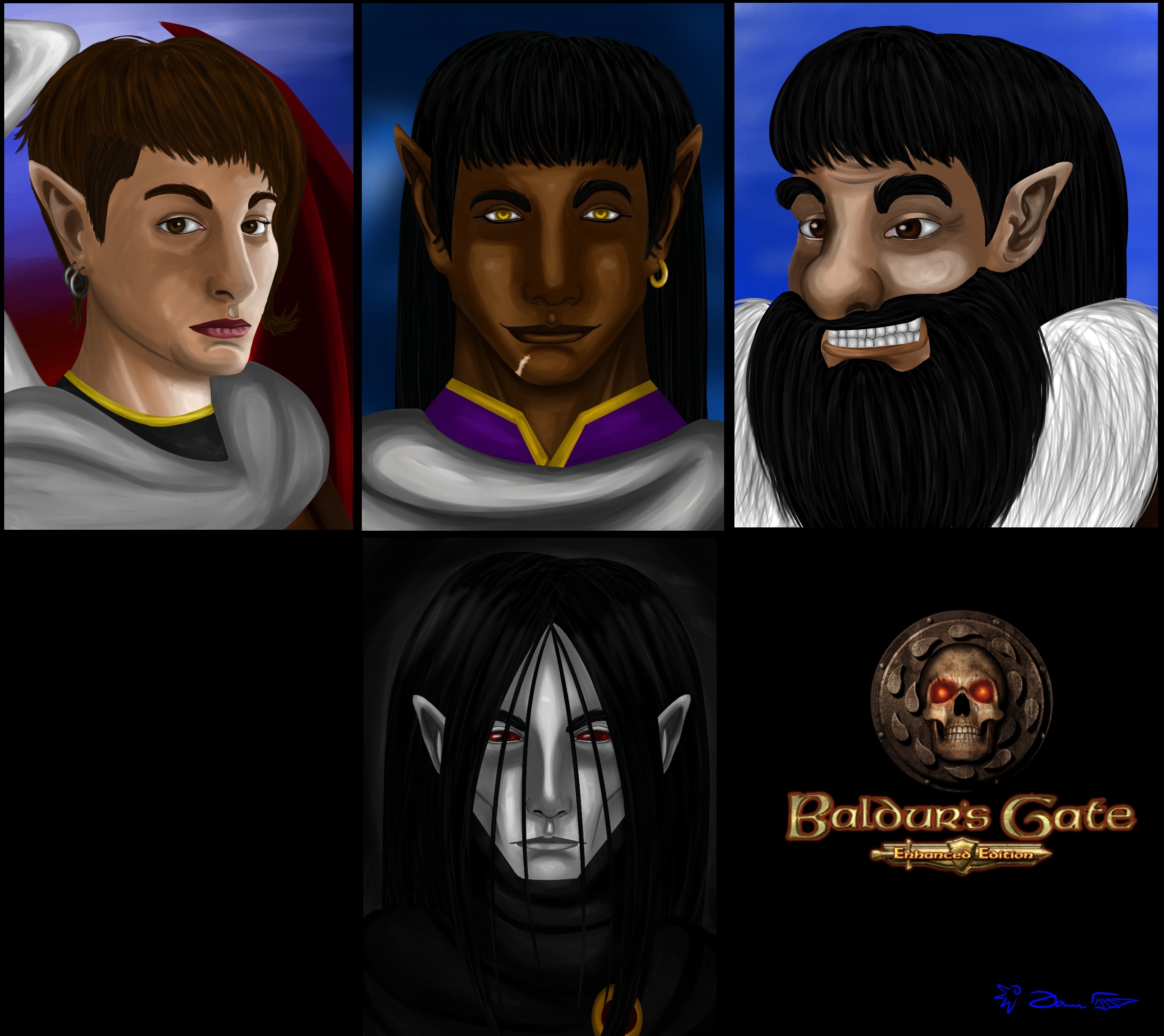 From left to right:
my avatar form of half angel and devil
or I'll pretend to be Elf/Half-Elf/Tiefling between class Thief/Ranger(Archer)/Bard(Jester) with Good side,
Bartimaeus
from Bartimaeus Trilogy by Jonathan Stroud I try make him looks like an Egyptian featuring him with pointy ears to make him looks like a djinni so he can be pretend to be Elf/Half-Elf and also between class Mage/Sorcerer or Multiclass whatever with True Neutral.
And my favourite dwarf from Artemis Fowl series by Eoin Colfer:
Mulch Diggums
classing dwarf between class fighter or fighter/thief with Chaotic Neutral side. Still I like him his sarcasm and well farts scenes.
So here go my fantasy OC from my comic project
Morhir the God of Darkness
he is quarter vampire/demon/shadow/dragon so in my fantasy story he can change to the shadow form or to the Dragon form, but in game fantasy he is Chaotic Evil Half-Elf Blackguard.
Ok here is bonus strip featuring my friend paintings and unimpressed Baeloth Barrityl. On background is screenshote from game.

Some portraits I drawed with pencil sketch from headshot ref. pose, which I can't remember from where I see ref. pose in google and one is from my photo. All paintings was done in Medibang.
More my arts you can find on:
Deviantart
Tumblr
And here is my fan parody comic on Baldur's Gate called
Baldur's Trousers
Meanwhile I paint portraits for my Female Bhaalspawns 'cause I've got them too much, which took me some time and energy.