These are the records of the Maeglin of Candlekeep, the Child of Bhaal and the One Foretold... And his companions in his adventures across the Sword Coast.
This is a roleplay focused Multiplayer Game, which we are more or less treating as 'online D&D'. It began with
@Heindrich1988
,
@ChildofBhaal599
,
@Liberelli
,
@Sonarch
and
@SquareTin
. It has been tricky to set up and involved much trials and tribulations to keep the Demons of Connectivity at bay. The heroes may be yet fall to the ravenous forces of Unstable Connection, Bugs and Real Life Distractions... but as long as there are those willing to brave those and other unforeseen perils ahead, Maeglin's story, and that of his companions, may go far yet... Perhaps all the way to the Throne of Bhaal...
The journals below are written in character from the perspective of the character in question. Given the sheer amount of content in the game, no one character's journal will cover everything, different characters will naturally focus on different events, depending on their role in them, and no single character can provide a fully complete and objective account of the experiences and events surrounding the company of Maeglin, the Bhaalspawn of Candlekeep. Differences of opinions, even memories of events, will differ. And that's by design. (Mostly!)
CURRENT PARTY
Maeglin, Fighter/Thief
lv 9/11
Player: ChildofBhaal599
Kang, Sorcerer
lv 11
Player: Heindrich1988
Donathal, Dwarven Defender => Cleric
lv 7/10
Player: Sonarch
Andre, Jester
lv 12
Player: Liberelli
Viconia, Cleric
lv10
Player:
@Viconia_DeVir‌
FORMER COMPANIONSMinsc, Ranger
lv1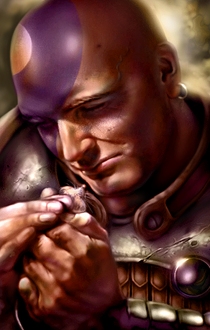 Player: Sonarch
Fate: Fell in battle at the Gnoll Stronghold.
Olias, Cleric
lv 1
Player: SquareTin
Fate: Left party at Nashkel.
Imoen, Thief
Player: ChildofBhaal599
Fate: Arrested by Cowled Wizards
Yeslick, Fighter/Cleric
Player: Viconia_DeVir‌
Fate: Fell in the final battle against Sarevok.
Valygar, Stalker
Player: ChildofBhaal599
Fate: Disintegrated by cannibal halfling mage in Planar Sphere.
RELOADS
1) Kang impetuously lead the group down the High Way, running straight into a group of Kobolds. Two strays arrows hit and killed him instantly.
2) Maeglin killed by a Polar Bear near the Gnoll Stronghold.
3) Maeglin killed by Gnoll slasher/veteran after being forced to step up following the fall of Minsc and Donathal
4) Maeglin attempts to assassinate the Gnoll Chieftan holding Dynaheir prisoner. Unfortunately he is caught and killed in brutal fashion.
... Too many to count... gave up shortly after starting list.