Looking at
@BelgarathMTH
enjoying a documented run through Pillars of Eternity, I've thought: why not to make a thread for other games. There're wonderful people here, and listening to their opinions and feedback is one of the best experience I have.
And it just is that I've decided a run through one of my favourite games, Might and Magic VI the Mandate of Heaven. And this is how this thread has been born.
This game was released on April 30, in 1998, and just like Baldur's Gate, has been my friend since then.
The game could be seen as "awful" and "outdated" by many players nowadays but for me it's still great, because the graphics doesn't mean much to me. The atmosphere, the gameplay, the music... They are still amazing.
So, meet a BG-inspired party of Anomen (a paladin), Yoshimo (an archer), Aerie (a cleric) and Edwin (a sorcerer) in the world of Enroth.
The party had "cheated death", had been taking lessons from
Gorion
Falagar, and after 3 year arrived to New Sorpigal.
The situation in the world is bad. New cult of Baa, the loss of king Roland, bandits and brigands everywhere.
So far, Edwin (did you doubt he's the main in the group?:) and Co has visited houses in the town, talked to people and took several quests.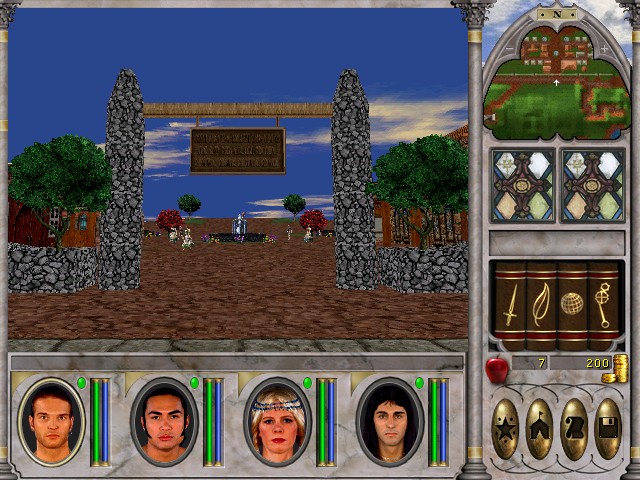 Everyone is welcome to this thread! If you like old school RPGs, if you played the Might and Magic series, have fun.
You can start your own adventures in these games (there're many of them, with Might and Magic: 6, 7 and 8 regarded as the best ever) and post your progress here. Or just have a look here from time to time.
The Might and Magic games are perfectly suited for no-reload/minimal reload runs because if all your party is killed, you're resurrected, without gold and all, but you can still continue the adventure.
Cheers!