Comparing the old and new character record UI. Is it final ?
00zim00
Member
Posts: 267
Edit Thread Moved: I know there is a new thread similar to this one already here but as Dee said, "It's gone a little far away from the SoD UI" so it has been moved here
Edit: So apparently there is a 2.0 beta patch for bg:ee and bg2:ee i had no idea about which has relevant information.. guess the feedback would have been better posted there if i knew about it lol. Still, i think my points are still valid.
Please know I have been a huge fan of the baldurs Gate series and beamdog for many years and I am in no way trying to belittle their amazing work. But one thing caught my eye that i had to bring up.
On one of the recent streams we were show what the new UI for the character record screen looks like. My question for the devs or anyone who might know. Is this the final design or was it a temporary place holder screen that still had work to be done?
The first image below is showing M'Khiin Grubdoubler with the new UI. The reason I ask is it the final version is because it seems to be lacking character and is kinda bland compared to the original BG. Most noticeable is the lack of visual flavor the old menus had.
(New UI)
http://imgur.com/z3mIioU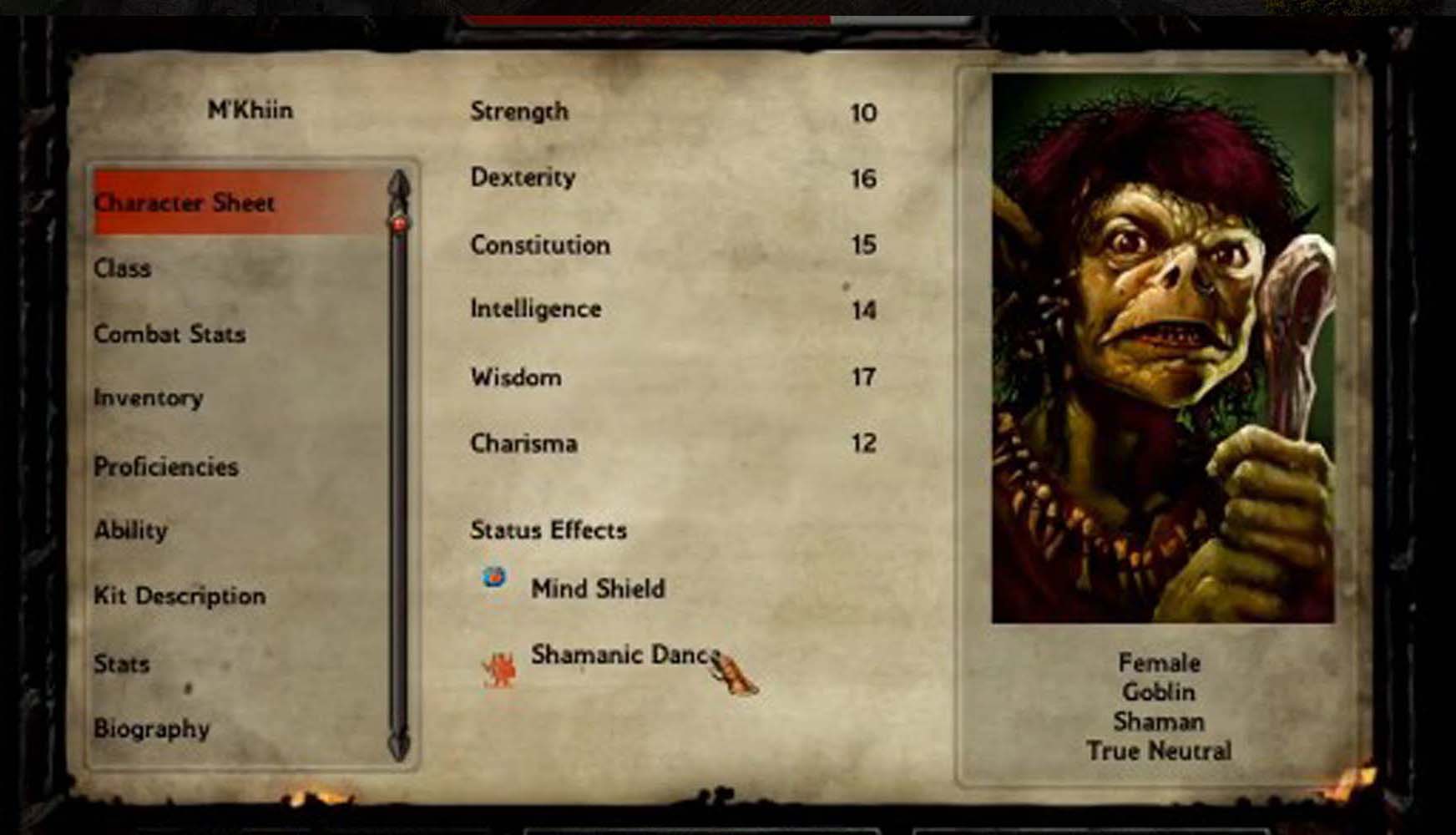 (Original UI)
http://imgur.com/HTgawB6
I dont want to go to much into it unless its confirmed to be the final version otherwise im bringing something up irrelevant. But it feels to me almost streamlined in order to better suit the tablet market. It also has confusing elements that don't make sense such as why is there an inventory tab? There is normally a inventory button on the side panel so its doubling it up. And why are class and kit description separate buttons/categories? It also feels that overall your getting less information at a glance now.
Of course until I play the game I have no idea if that is a good choice or a bad choice. So im going to focus on what i think is the main reason im making this post. The original UI visual design is clearly imo superior to the new UI. Your losing so many of the iconic elements its staring to look like a spreadsheet.
In order to properly compare what i think the UI could look like vs what it currently seems to have changed to I have made my own quick mock-up design to show my point of view. Assuming they are wanting more buttons/categories and a larger area where you can read text. My design is a mix of both the new and old elements. It has a similar layout of the new design but dosnt remove the information people want at a glance. Please also ignore the button names as I just picked whatever to fill in the design and not all information is there but as i said it was a quick design. Also to note with some of what I consider "important" elements missing I have not added them as i assume Beamdog would want those in each of the button categories, even if i might not agree with it.
(My compromising design)
http://imgur.com/Q8Nrbgl
(My design with extra buttons if they are needed)
http://imgur.com/bcDlPRr
Now i know my design far from perfect and im not claiming it to be. Neither am i saying "I hate the new design and will never buy the game without the change!" or something like that. But if it is the final design im just going to be honest and say ill be disappointed.
Thanks for reading
EDIT: New Mock-Up #2 . Details in a few posts below if your interested
EDIT: New Mock-Up #3. Details in first post on second page.
Post edited by 00zim00 on