Work in Progress
Heart of Fury Mode was meant to be an "ultimate difficulty mode," but it wasn't very well executed. Its main feature is to give enemies extremely large HP bonuses, such that a regular orc could have about 100 hit points. This is bad because it makes fights very tedious. Most of playing Heart of Fury Mode consists of sitting around as your summoned creatures (which also get the extra HP) slowly kill the enemies.
This mod presents a more interesting "ultimate difficulty mode." It's not actually a difficulty setting, so it can be played on Normal, Insane, or even on Heart of Fury mode itself. Here are the main features:
* Battles are made tougher by giving enemies more powers (for example, Fire Beetles can breathe fire), adding more enemies in an encounter, giving enemies better AI (in some cases), and making enemies stronger all around, rather than simply by giving them lots of hit points.
When possible, the mod powers up enemies by improving their main ability. Trolls in this mod regenerate faster, bombardier beetles use their spray ability more frequently, sword spiders move super-fast and attack ten times per round, and shadows are like Strength-draining mind flayers (to say nothing about what the mind flayers are like).
* Items are powered up, like in Icewind Dale 2's Heart of Fury Mode.
Example items:
* Summoned creatures are NOT powered up, so you can't rely on them. Some enemies will get special summoning spells that summon creatures that are powered up, though.
* The party will be powered up slightly. Player characters roll 8-20 for stats (as in Dark Sun), rather than 3-18.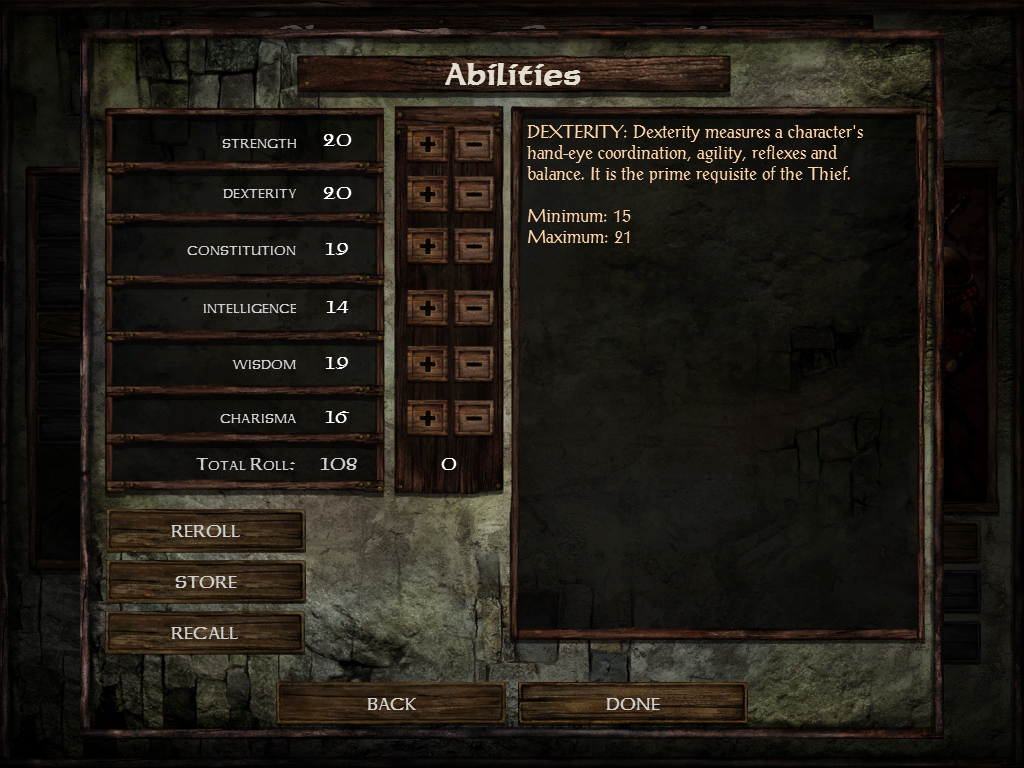 (Stats are for an elven ranger)
The party starts the game with 30000 experience (divided among the party, so a smaller party will get more experience per character). Pomab sells some good magical equipment and scrolls, and the party starts with a lot of gold.
* Throughout the game items are added, removed, and switched around. There are new random item selections.
The game will start off not too difficult - the goblins at the beginning of the game won't be much tougher than they are normally. But the game will get really hard really fast.
I am not done with this mod, and it's going to take a while. So far I am pretty much finished modding the prologue, Chapter 1, and Chapter 2; I'm currently working on Chapter 3.