one of the game tips of the original bg2 game, maybe it is preserved also in the ee version told something like: "remember, your characters don't need to feed themselves but you do", so let's make pizza...
all started from me liking pizza but living in a little village in the mountains, far from every place where i can eat a good pizza, and my oven is not very good so baking it at home did never get good results.
then i found a video about how to make pizza at home simulating the temperature and cooking time a real professional pizza oven, that cost like 500 bucks or more for a home version, has.
what i did not like of the video is that a non sticking pan is brought to a very high temperature and i suspect that even the modern non sticking coatings release harmful stuff at those temperatures, if you can smell it probably something is wrong.
so i took a cast iron disc that i had, cleaned it very well and used it for the first part of the cooking process. also a cast iron skillet large enough should work as well or to obtain a piece of cast iron or steel from a metal working place, even square and not round, should work as well, as long as it is 5mm or 1/4 inch thick.
then i transfer the pizza in some metal plate and procede to the second phase, as a new pizza is cooking on the cast iron. in the second phase i found also that the pizza does not need to be so close to the electrical resistance, to keep it like 1 inch 25mm far from it, but creating with aluminium foil a heath reflector above the resistance, give better results.
the bottom of my pizza is ready in less than 3 min and the top in about 1 min, so i can produce a pizza every 3 min, the method is good also for large families and if you invite many friends for a true neapolitan pizza evening.
i prepare my dough starting from 1 kg of flour getting a dough of about 1.65-1.70kg, that is enough for 8 pizza. i also let the dough mature in the refrigerator for about 1 day or at least overnight, using much less yeast than the amount suggested in many recipes, this way the pizza is more tasty and more digestible. the dough last at least 3 days in the refrigerator so with minimal work i can have a pizza ready with minimal work, i take the right amount, form the balls, wait an hour or so and then in less then 15 min i have pizza ready.
here is a (bad, taken with the cellphone and with dim light) photo of the result. on the left you can spot a piece of the cast iron disk
and here is the you tube video that started everything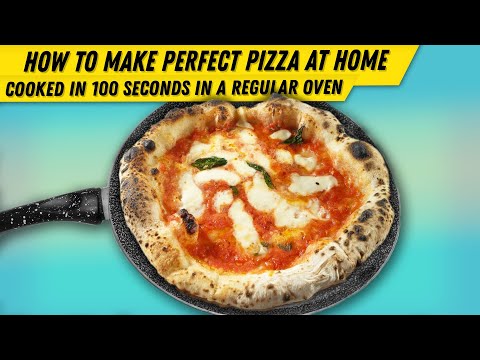 last and very important thing, don't use a rolling pin or the crust will never rise well, to learn how to properly stretch a pizza is not difficult, there is more then one method and very good online tutorials. also for preparing a proper good dough a quick googling will give a lot of information.
a channel that i like very much is bake with jack
https://www.youtube.com/channel/UCTVR5DSxWPpAVI8TzaaXRqQ
i believe that the method for cooking pizza in a pan was first published in an english cookbook or site, is not an original invention of the video poster, there are also some other videos about it if you search the internet.
so now that you know it you have to try it, i can show you only a photo of the results i get, but also the taste is better then the one of most of the pizza restaurants i did try. of corse i live in northern italy, living in naples the things would surely be different, i surely can not compete vs da michele or the other best pizza makers in neaples and probably in all the world...