I bought the original Baldur's Gate bundled with Tales of the Sword Coast close to when it was released, so I must have been about 16 at the time. Got BG2, ToB, and PS:T soon after, still have the discs lying around somewhere. Played all games several times, know the stories backwards and forwards. These games are now about 20 years old. I've played dozens of other (good) games since then. I have a backlog of good games that I have yet to play or finish, and more will surely be released. With my gaming time becoming more scarce I should really become more selective in what I play. And yet every two or three years, out of the blue, this thought pops up in my head: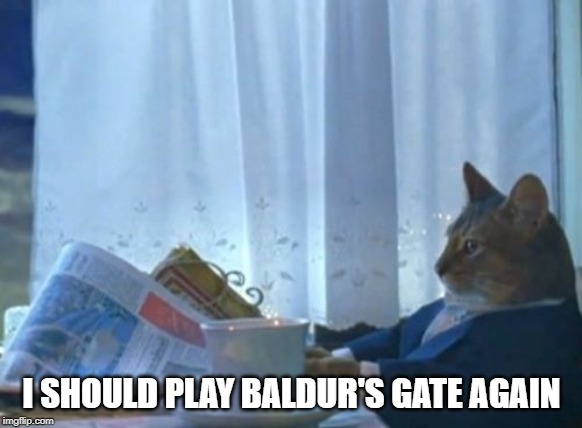 via Imgflip Meme Generator
I should play Baldur's Gate again.
I don't know what it is about these games that keep drawing me back. It might just be nostalgia, but then again I've played other games that I liked and don't really feel like revisiting. Not as much at least.
Could be the writing, which is excellent for the most part. But like I said, I know the story backwards and forwards. So there's nothing really new to discover left.
Maybe I'm a completionist. I've mostly played as a mage, good, and with the canon party. Tried other classes, and I always intend to try new party members, but usually I settle on a group that is mostly the same. Maybe one member changes, depending on what class I'm playing. So maybe it's that, getting an idea like 'I could play a paladin this time. That way I don't need to bring Keldorn, and give that spot to, say, Mazzy, hardly ever played with her. Ooh, and for the first game I could bring Coran, I've never played with him around. Or Kivan. Damn, why can I only bring 5'.
I guess I just like starting off with some bloke that barely knows how to swing a stick, finding some friends that aren't much better, and bringing them to the near godlike beings that they will end up as. I know the journey, I know how it will end, still I'm having a good time gathering my party, and venturing forth.
What is it for you that keeps bringing you back? The story, the gameplay, the challenge of finishing the game solo with some class you haven't tried before, trying the game with some mod that just sounds so good, something else?