Hello! So, inspired by some of the other threads here, I decided to document my own RP-ed playthrough. However, I decided to try giving IWD2 a go instead of the BG saga. I've played the start of this game a lot, but normally lose interest in the ice temple, so I'm hoping that documenting it here will keep me going. I really enjoy the freedom in character creation and the first few chapters of the game, but later on it can be a bit of a slog, so by focusing on the characters, I'm hoping I'll stick with it.
I've always enjoyed RP over powergaming (heck, I normally play on easy), but I will try to include a little detail about the battles so people can
enjoy judging me
provide feedback
I absolutely love playing with my own characters, but I thought it might be fun to try something a bit different, so I'll be playing with the cohorts from Neverwinter Nights 2: Storms of Zehir. In game, these companions are similar to BG1 NPCs (bare-boned, but with a dash of personality - just enough to inspire, but also provide creative freedom). I've spent the last few days painstakingly creating soundsets from their limited audio, as well as combing through pinterest to find even half decent portraits.
I know lots of people don't enjoy IWD or IWD2 to the same extent as BG, but maybe someone will be interested in following along, all the same. Fair warning, I'm no wordsmith!
Anyway, without further ado, here are the characters I ended up with.
Lastri Kassireh - the halfing duelist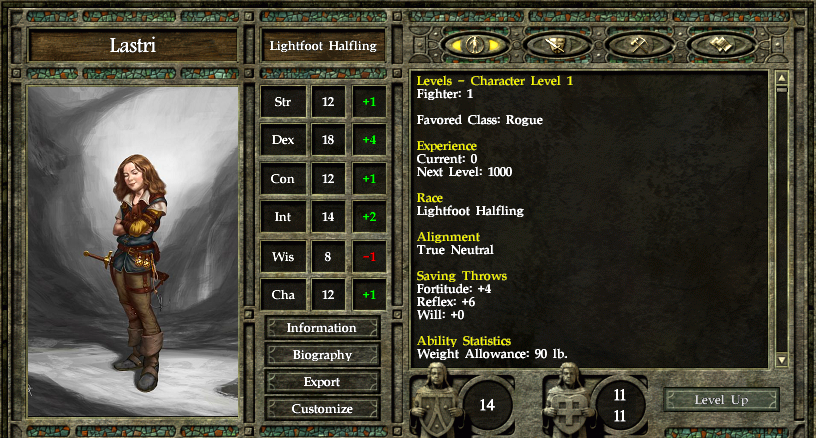 Originally from Neverwinter, Lastri is the former ship captain of the merchant vessel the Vigilant, which was tasked with transporting the famed author Volothamp Geddarm from Neverwinter to the jungles of Samargol. After a series of unfortunate events (play NWN2: SoZ for details), she was left with no ship, no money, no crew and no hope, her reputation as a captain in tatters. Stranded and alone, she decided to form her own adventuring party, hoping to earn enough coin to eventually buy a new ship and hire a new crew.
What Lastri lacks for in size and strength, she makes up for in courage, determination and gusto. Prone to rash action, she is able to compensate for her lack of planning by thinking on her feet, and she can often be found in the thick of battle, toe-to-toe with the toughest of opponents. She may be headstrong and even a little domineering at times, but she is also the life and soul of the party, and her bellowing voice can cut through the clamour of the tavern as easily as it can cut through the wind in a raging storm.
Author's note: Her build isn't ideal, but I was really enamoured with the idea of a loud, bossy halfling sailor. She will also double as lockpicker and trip-disarmer when she takes a level or two of rogue - I reckon sailors need to be pretty good with their hands, dealing with all that rope… right?)
Umoja - the human druid
Umoja is from the jungles of Chult, a druid and worshipper of Ubtao, the Father of Dinosaurs. With his dinosaur companion Yushai, it was Umoja that convinced Lastri to seek her fortune in the blistering cold of the Spine of the World. He believes that life, like the jungles which he calls home, is a maze - a test that must be navigated before one can find peace in the afterlife. It is impossible to predict how the maze of life will twist and turn, and he therefore did not question why when he felt a gentle, insistent tug, calling him northwards.
Considerate and kind, many think Umoja's relaxed temperament seems at odds with the harshness of the jungles in which he was raised (and the ferociousness of his protector, Yushai). He is friendly and easygoing, though he prefers to listen than to speak, making him a calm, reassuring presence that complements Lastri's impulsivity and passion.
Author's note: Obviously, it's not possible to have a dinosaur animal companion in game. I'm pretty sure a dinosaur would die in the cold, but we will just imagine that the animal companion bond and some sort of magic allows Yushai to survive.
Grykk Bannersworn - the half-orc paladin
Abandoned at a temple of Torm as a squalling child, Grykk was raised by the monks therein to be a devout and faithful champion of his faith. Raised on principles of structure and discipline, Grykk found joy in the calmness and routine of temple life, and through Torm, Grykk found purpose and peace. It wasn't until he left the protection of Torm's temple so that he could better help the needy that he realised that not everyone would treat him so fairly. A half-orc is rarely welcomed warmly, let alone one armed to the teeth, and Grykk has found it difficult to accept that most people do not trust him and would sooner reject his aid than associate with him. He has travelled with Lastri and the others away from the prejudice he faced in cities to the Ten Towns, where he hopes his actions will create a stronger impression than his appearance.
Formal and a little stiff, Grykk can come across as uptight and serious to those who meet him. However, his zeal and fury when combating injustice belies an inner turmoil raging within him. He claims that his lineage is nothing more than an accident of birth and rejects his orcish heritage completely, but despite this, there is a black rage in his heart that he struggles to control - one that he secretly fears runs deep in his blood and bone. He therefore tries to compensate for this chaos within him by keeping busy with incessant, almost-compulsive drills, routines and practice. Despite his stilted, pompous speech and his impossibly high standards, people who take the time to get to know him recognise that there is a tenderness to him, and few could match his courage, integrity and dedication to making the world a better place.
Author's note: Definite Anomen vibes here, although I don't intend for him to be nearly as arrogant or prejudiced. There is no paladin of Torm available so I went with Helm. I could have changed the narrative, but I think Torm works a lot better for him, so we will just have to use our imagination.
Inshula sar Mashewe - the human ranger
Hailing from Tashalar, a small nation far to the south, Inshula and her sister, Kwesi, are both skilled hunters and trackers. Always looking to challenge themselves, Inshula and her sister sailed to the jungles of Samarach, hoping to test their skills against new and challenging foes. Unfortunately, on the journey, her sister was gravely injured, and Inshula did not possess the patience to wait while her sister recovered. She therefore ventured onwards alone. It is then that she met Lastri and her companions, and she readily agreed to travel with them north, keen to see what challenges the wilds of the northern forests would offer her.
Inshula is a woman of few words, often perceived as aloof and haughty. In truth, she prefers to say little because she finds that most people she meets are disingenuous and false, saying one thing and meaning another. She has therefore learned to ignore the honeyed words of strangers and trust her instincts. After all, in the wilds, instincts are the key to survival, and Inshula prides herself on her keen intuition. In the jungles of Tashalar, she learned that danger can come when you least expect it, so Tashular acts as the eyes and ears of the party. In battle, she tends to hang back and protect the frailer members, peppering any enemy foolish enough to come within range of her deadly bolts.
Author's note: Wakanda forever!
Quarrel - the half-drow warlock/sorcerer
Drow are feared and hated all over the surface world, and often for good reason. Even half-drow, who are often raised on the surface, are viewed with just as much hostility. Treated by those around him with, at best, disdain and pity, or at worst, revulsion and abhorrence, Quarrel grew up to be an angry young man. Incredibly gifted, he scorned those around him while also craving their validation, which he never received. He swore revenge on those who tormented him, vowing that if it was a devil they wanted, a devil they would get. He therefore sought out a master to help him develop his innate arcane powers. He had shown signs of being a sorcerer at any early age, but all his life, he had struggled to contain and control his abilities. Eventually, he found a master, who taught him how to embrace his fell powers, but before his training was complete, his master mysteriously vanished, leaving Quarrel alone once more. He was surprised when Lastri and her band offered him the chance to travel with them to the frozen north, but he decided that there was safety in numbers, and the goblin hordes threatening the Ten Towns would make excellent practice for him to continue to develop his arcane might and plot his revenge.
For obvious reasons, Quarrel has a hard time trusting people. A lifetime of bad experiences has made him wary, and he is always straddling the line between cold, condescending indifference and firey, explosive rage. This rage often leads to disastrous consequences in battle, where Quarrel releases his frustration and pain with wild abandon, caring little for who or what gets in his way. Sometimes it is not clear who he is so angry at - his enemies, the world at large, or maybe himself.
Author's note: In SoZ, Quarrel is a broody warlock, obsessed with following in the footsteps of his master, Ammon Jerro from the main NWN2 campaign. No warlock class in IWD2, so I've had to take some liberties.
Chir Darkflame - the deep gnome mage
Like most gnomes, Chir always possessed an innate curiosity. However, unlike most gnomes, Chir's curiosity had a dark and macabre bent to it. Known for pushing boundaries in her field of research, she seemed to care little for the suffering she caused, and sometimes even revelled in it. She was never happier than when she was dissecting a new specimen, a maniacal glee in her eyes and a happy tune on her lips. The tale of her journey to the surface was a long one (involving arrest, mindflayers and being sold into slavery) but suffice it to say, she managed to escape, and she revelled in her newfound freedom on the surface - no more stern-faced, joyless family warning her that she was risking the safety of her clan, just total, unbridled intellectual freedom! Rather than being concerned, the party are baffled and bemused by Chir's passion and curiosity. It seems they have yet to realise just how far she will go in her pursuit of knowledge.
With her excitable voice and her sweet appearance, one might be mistaken for thinking of Chir as cute. She has a boundless energy and optimism (completely alien to any respectable deep gnome) that can be in part infectious and in part exhausting. People often leave a conversation with Chir feeling confused and dazed because her mind moves a mile a minute, and words tend to tumble out of her mouth in a torrent of excitable cheer. This works in her favour, however, because it somewhat helps to distract the listener from what she is saying, which is often related to her grim projects.
Author's note: Chir is a generalist mage in SoZ, but both her and Quarrel are already at a level disadvantage due to their races, and I didn't want to impair her even further by losing an extra spell per level. I initially chose illusionist because gnomes have a natural affinity for it, particularly deep gnomes, but I decided to switch her to a Transmuter because illusion magic did not really fit with her love of dissection and curiosity about the way the world works. It drives me nuts that this portrait doesn't really match the others, but there are very few female deep gnome portraits. If anyone finds one, feel free to send it my way please!
Final comments: I'm playing on Normal mode because I'm not brave enough to play on anything harder, but I may increase the difficulty later on if I think things are going too smoothly. I'm also playing with the semiOverhaul mod for IWD2 (link below), which I wish I had discovered before, so let's see how it goes!
https://forums.beamdog.com/discussion/69911/semioverhaul-for-iwd2-update/p1
I'd love to hear any feedback or comment, if anyone decides to read along!