Interesting discussion with
@meagloth‌
@Anduin‌
and
@Elrandir‌
in the meme thread about real life martial combat and the feasibility of dual wielding. Since I thought it was an interesting topic that I wanted to see continued, but not on the meme thread, lets do it here.
Meagloth had said that an off hand dagger was useful for parrying at greater angles to allow for a counter attack. I argue that you would be better off with a shield of some sort (probably a small shield or buckler).
Daggers provide too small of a surface area (unless they are trident daggers), poor angles (when pushing a sword away from your body, it would be quite simple for your opponent to adjust the angle and slide his weapon below your dagger) and bad leverage (short). A lighter shield would be able to provide security over more surface as well as give you the "oomph" you need to make such a wide parry as to allow for a counter strike on an unguarded opponent. Also, due to the larger surface area, you could deflect the attack with better accuracy and make sure that your opponents sword goes where you want it to go. Keep in mind that "blocking" attacks was very rare, and most parrying was deflecting rather than meeting straight on, so the wider shield would be able to redirect the opponents sword arm a greater distance.
I feel like a Chinese Hook Sword
or Butterfly Sword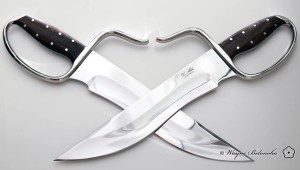 would actually be better choices than a parrying dagger if you were to use an off hand weapon for this purpose as they provide better protection for your hands, are wider and thicker while still being light or can even trap larger weapons. Maybe
@Heindrich‌
knows more about these weapons, that were actually dual wielded (though only in martial arts and not real warfare).