The game was announced in August, 2014 and got a site with lots of information:
https://mmh7.ubi.com/en/blog
This is the game trailer: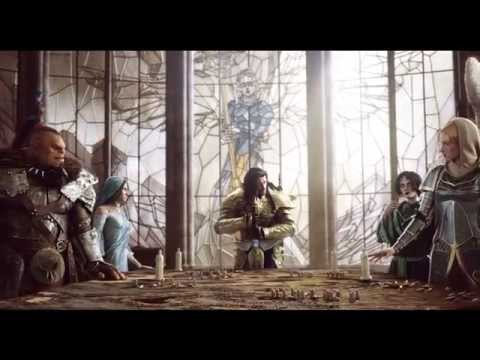 Here you can find the gamescom demo video:
http://www.ign.com/videos/2014/08/15/might-magic-heroes-vii-gameplay-demo-ign-live-gamescom-2014
And here're some screenshots:
I know everyone would say "Ubisoft aka the bad and greedy developer". But so far the information about the game looks very promising and in my opinion it could very much become a fine installment.
Here's the FAQ I've managed to combine based on the available information:
- Who is the developer?
Limbic, the guys who took over H6 patching and balancing when BlackHole went bankrupt and also created Might&Magic X: Legacy. Legacy gave them the opportunity to do a full production cycle with Ubisoft – including all the required processes from localization, quality assurance, marketing, community work, etc. Before they took over H7 they had a fruitful post-mortem with the Ubisoft team about what went right and wrong.
- How many factions will be in the original release?
Six, with
haven, academy, stronghold, necropolis and sylvan
confirmed from the start. The last remaining one was voted by the community and became
dungeon
.
- What is known of the town screens?
They will be 2D animated.
This is an academy townscreen:
- Will you change the townscreens for new 3D models?
Back in 2006, 3D townscreen implementation was a so-so appreciated feature and it appears that a majority of players preferred us to stick to 2D models. Indeed, even if they were visually impactful, they quickly appeared to be inconvenient and did not offer the same feeling as traditional townscreen management (where you select your building directly and no go through the interface only to make actions). With this in mind, we made the decision to continue in the 2D direction and allow this important part of the budget to secure key features, game launch and support. Actual townscreen still are work in progress but no technology swift will be operated.
- What about the in-game resources?
There will be 7 resources in Heroes VII, some of them linked to specific units tiers. Some factions will need certain resources more than others but they will have the means to gather their preferred resources even in difficult situations, through hero abilities and town buildings.
The seven resources of H7 are: Gold, Wood, Ore, Dragonblood Crystal, Starsilver, Shadowsteel and Dragonsteel.
- Can I play offline with full game content?
The game will only requires a one-time activation and then will be fully playable offline. Of course, if you want to play online multiplayer mode, you will need to be connected.
- What does Luck and Morale do in H7?
Good Luck gives increased damage and good Morale gives an additional "half turn". In contrast to Heroes 6, negative Luck is back and "fumble" is synonymous with try again or reduced damage dealt.
- Will the Map Editor have the Event function again? The "blue-ball" in the H3 Editor was one of the most important features for a creator to have. Placing that single object empowered the maker to call for an ambush, a morale change, joining troops, goodies, etc.
The "blue-ball" is not coming back... but is evolving! Indeed, the Unreal Engine 3 offers great tools to all map makers and modders. In addition to all existing scripts on our database, fans will be able to create and share additional ones to enhance the experience.
- Will primary attributes return (attack, defense, spell power and knowledge) or will it be like in H6?
Primary attributes are making their grand come back in Heroes VII. Based on all we learnt from traditional Heroes titles we decided to re-implement them, the only difference will be the nomination of some of them.
- How will the town building trees look like? What Heroes games are they most similar to and is there anything new about them?
The Town Building system is very similar to the one from H5, but offering you more choices and more buildings affecting many aspects of the game.
- How many units will each town have? Will they be divided in tiers?
There will be three tiers, core, elite and champion. Each town will have three units in the first two tiers and a choice between two champions in the last one.
- Are unit names final?
No.
- Will town/dwelling conversion return?
No.
- What about global recruitment or caravans?
Recruitment will no longer be global, there will be caravans for transporting units from other towns/dwellings.
- Will warmachines return?
The new thing is a mix of creatures and war machines, destructible, buyable, upgradable... They are unique to each faction and offer various gameplay styles.
Each faction will have some kind of ballista, first aid tent and catapult though they will be different than before. For instance haven will have a priestess as a warfare unit, instead of a healing tent.
- How does the skill system work?
It will be a kind of mix between H6 (full control is in your hands) and H5 (skills are structured in a wheel). Heroes have a class (like Paladin) that defines their skills and also a faction skill.
Skills have a global effect and offer access to abilities, which have a more specialized effect. When levelling up, the player must spend a point to upgrade a skill or buy an ability.
Skills are divided into Might, Magic and Neutral categories and are consistent with the Hero's class.
- How will the racial skill work this time? Will it have unique abilities scattered throughout the skills like in H5? Will it have its own skill tree?
Each racial skill will offer a specific skill including different special related abilities. An example with the racial skill of Haven (work in progress of course!): Righteousness - "Whenever a friendly creature has good morale, all other friendly creatures get +X morale until they have good morale. This effect can stack up to the morale cap".
- What will the magic system be like?
The magic system in Heroes VII will be very close to the ones implemented in Heroes III & V. Spells are outside the skill system again, and must be learned in town guilds, adventure map buildings or from other Heroes.
- Magic Guilds?
Each level of the magic guild grants four spells, plus another per level if an Arcane Library has been built. Which means a total of 16 spells for a fully upgraded magic guild in any town, and 20 for an Academy town.
- What can you tell us about battle system and battlefield?
The motto for the battle system in H7 is less abilities, more tactics. We want dynamic battles with movement, risk and sacrifices. We want to encourage offense and reward smart placement of units and use of space. Also, we want to strongly emphasize each faction's battle style, through faction skills but also creature stats and abilities.
Another big topic is the variety of battle maps and NPC formations. You will encounter surprising terrain and enemy formations, varied armies using specific tactics.
Combat Maps will use different sizes and layouts, forcing you to revise your strategy and think about whatўs best during any specific combat.
- Will we be able to rebuild townd?
Towns in Might & Magic Heroes VII cannot be converted to other factions. This will create both challenges and strategic opportunities.
- What will the campaign be about? Where are we in the MM timeline?
The story of Might & Magic Heroes VII takes place in 853 YSD. That's ten years after the Fourth Eclipse and the death of Empress Maeve Falcon, leaving the throne empty and the Empire in turmoil. After countless battles, treaties, betrayals and alliances, two contestants remain to claim the crown: Ivan of Griffin, and Seamus of Stag.
We meet Ivan in a state of self-doubt: the war has taken its toll on both his body and mind. Now he is tired of it all, wanting to lay down arms, declare the independence of his Duchy and leave the Empire to Seamus. But as he's about to make this fateful decision, his council of advisors (among them a few familiar faces) start telling him stories of past heroes, who, like Ivan, were faced with impossible choices.
These stories are the six campaigns of Heroes VII, each focusing on a key moment of the history of one particular faction ...
- Will we be able to disable combat "cool-cams"? (introduction fly-over, critical etc.)
You will be able to fully disable those effects but also to tweak their frequency of appearance if you prefer.
- What was the hardest part of this development?
Philosophy: with Heroes VII, we really wanted to offer the best of Heroes experience, focusing on core gameplay strength of the series. To do so, our Game Designers spent months and months to identify what would be for H7 this magical recipe and how to really implement it in the game.
Technology: definitely it would be the map editor. We have as any Heroes fans, huge expectations for this tool and we did our best to follow this vision. In addition to a great Heroes experience, the map editor is the one key to make the game live longer and longer.
- Will there be a map editor from the beginning?
Yes, and more. It is too early for us to share all information on this topic but we are constantly improving our tools and already started to test them with selected M&M VIPs : ). Our goal is to provide accessible tools that everybody could use to create maps in a few minutes but also many options and features for power users.
- Will modders be able to create their own factions?
Extreme modding is something we want to support, but right now we don't want to make any false promise. Hang in there!
- RELEASE DATE
When it will be finished
Game development will continue for a few months and then we will enter into the debug and polish period. As soon as this one is complete, the game will be officially released. Our objective didn't change since Gamescom announcement: 2015.
More details here:
http://www.heroesofmightandmagic.com/heroes7/Game_Features