Hello, since we have an official no-reload thread managed by
@Ygramul
, I thought we could use an official minimal reload thread to go along with it. This thread will be for people like me who lose their no-reload status, but would like to continue sharing their runs.
The main spirit of a good minimal reload is that, first, you only reload if Charname dies. Under no other circumstance can you reload and still consider it a minimal reload. If you think there should be an exception to this rule, it's okay, but just explain that you reloaded and why.
The second element of a good minimal reload, is that you keep a counter at the bottom of your posts of how many times you have reloaded, and preferably keep a list of why Charname died and where.
The last thing is that you should share your game build, that is, tell what mods you have if any, and give full disclosure about difficulty settings and the like.
So, those are the "rules", but they are flexible as long as you explain your reasoning why you "bent" or "broke" the "rules".
So, without further ado, here is my current run.
I am using version 2.0 without any mods, Core Rules.
I first lost my no-reload status during Neera's encounter. It has been changed and re-scripted to make it much more difficult. I kind of got sore and made some sour-grapes posts about that in the no-reload thread. Sorry about that. I've calmed down and accepted that I am playing a BG game that has a lot of changes in it that I don't know about yet, and some dying to those changes is inevitable.
After I decided to keep playing and not accept that first death as legitimate, I now have had Charname die without any question of the fairness of the death. I was just plain careless and stupid. I tried to tank an ettercap in a "you have been waylaid..." encounter in the Cloakwood. I got poisoned. I tried to use Bhaalspawn Slow Poison, and it got interrupted. I then tried to drink an antidote, but my aura wasn't clear, so it was far too late. End of no-reload, no argument possible.

One thing I really like about 2.0 is that you can see in a single screenshot of the quest journal exactly where I am in the game now without my having to explain it.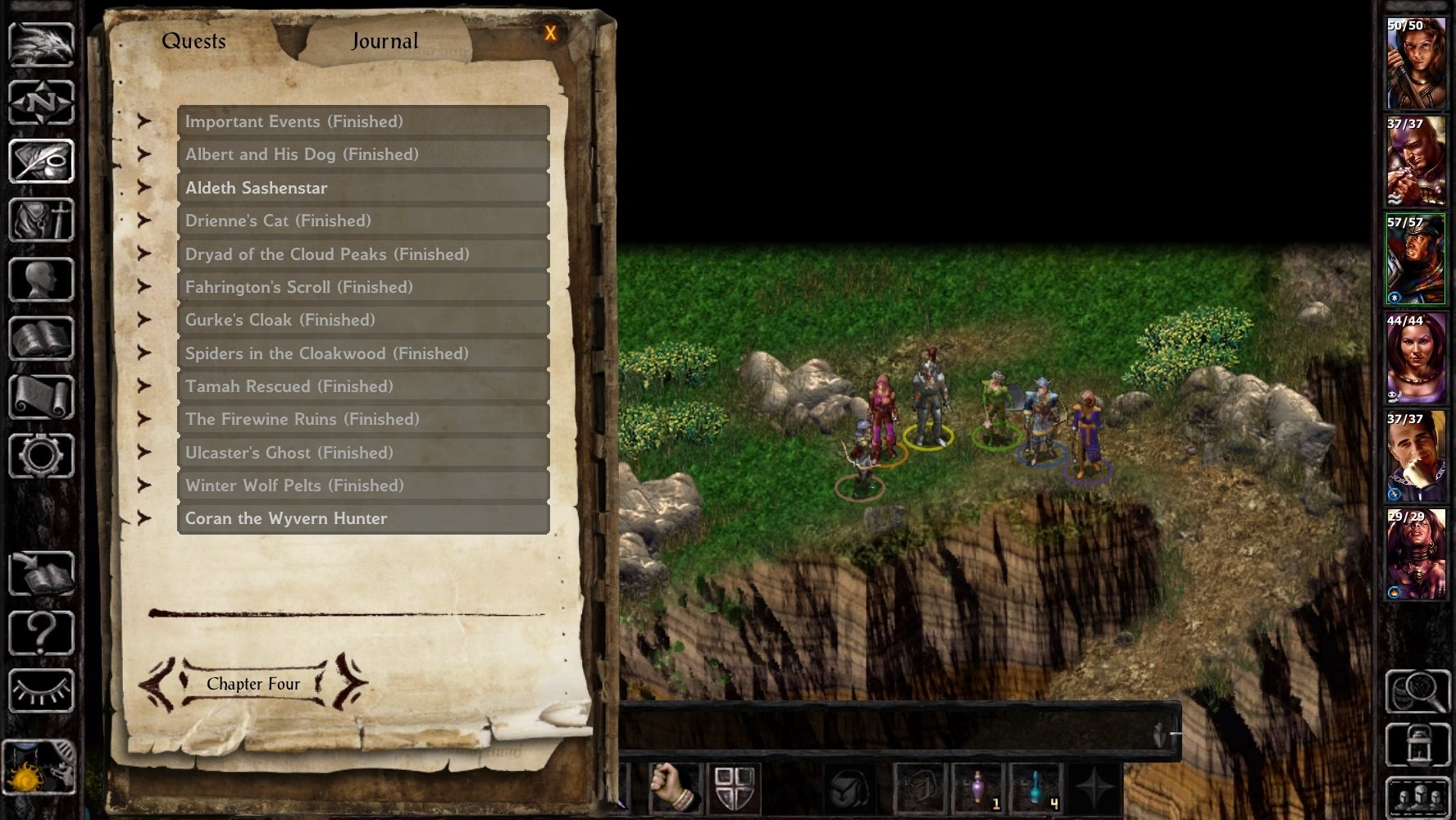 Reloads: 2 - Neera's encounter, ettercap random encounter in the Cloakwood
Come on, all minimal reloaders! Let's share our runs, even with very short posts showing the quest journal and a reload counter, and make this a thing in our forums! Who will be the first to do a complete minimal reload of the entire trilogy including SoD, with fewer than 5-10 reloads?