I have decided to start a new no-reload run, this time solo, for SCS2. I hope to continue into ToB with Ascension.
Our Charname this time is Rolava, a CG Human Archer who will dual-class to Thief at level 13. This is the Generic Archer custom kit from the Tactics mod, which counts as a fighter class and therefore can dual to thief.
Rolava's stats are:
18/96 STR
18 DEX
16 CON
11 INT
3 WIS
10 CHA
Two pips in Two-handed Sword; four pips in Crossbow.
This is a very late-game oriented dual-class, so we are going to have a lot of trouble early on, particularly as we are running a non-caster class that will not get UAI until Rolava collects over 4 million XP.
The game begins! Once we're out of our cage, we send Imoen away and free Jaheira and Minsc for the extra XP, before sending them off as well. We dodge a couple Lightning Bolts, slay a Mephit, deactivate a machine, and tell Aataqah we have no interest in fighting his Ogre Magi or Gibberlings.
SCS2 replaces the Goblins of Chateau Irenicus with Duergar, so this dungeon is filled with fighter-type enemies. As an Archer, Rolava cannot equip any better than Studded Leather Armor, so her AC is at 3. And since we can only rest once in Irenicus' dungeon before we get interrupted every time, we need to save our resources and pick our battles wisely.
Almost every group of Duergar has a pair of archers with crossbows. Rolava can force them to switch to unarmed combat by running right up to them.
She's still quite vulnerable, but this does help her out a lot. We get a crossbow out of the deal, but unfortunately, we won't be able to use it much before having to switch to melee weapons.
Altogether, we have to fight at minimum five clusters of Duergar, with an additional two if we want to take on Ilyich. Fortunately, with rest until fully healed enabled, we can allow Rolava to drop to single digit HP levels before we rest, and get back all our HP in one rest period. Still, we need lots of potions to stay alive, and careful rationing of our Bhaalspawn powers (two Cure Light Wounds, two Slow Poisons, and two DUHMs).
Mindful positioning was immensely helpful for the Otyugh.
It's immune to missile damage, but we can still outrange it in melee.
Here's an ideal example of positioning with a group of Duergar. I was quite pleased with this situation.
The one archer is forced into melee and all the axe users are out of reach. And with Rolava's two-handed weapon, she can take down the axe users first, so she only has to stand up to one unarmed Duergar for this battle.
Notice that Rolava suddenly has a Katana in her quick weapon slot. It's not because I went back to get it (it's worth 150 gold)--it's because I died once in this playthrough, and a few of these screenshots are from different runs of Chateau Irenicus.
Ilyich is tough. I had hoped to defeat him before he had a chance to use any of his potions, but I was not quick enough.
The Duergar mage wasn't too much trouble, though. I talk-blocked him to death. He dies in two hits from Rolava's crossbow.
I ignore the Cambion and the Air Elemental Plane. The former is just too tough, and the latter has some 6-second stun effects that could easily kill Rolava. I also avoid many of the trapped containers. I only bother to get the Helm of Balduran and the Portal Key.
The Mephit Portal room is tricky. There's a Radiant Mephit that could easily spell my doom on a failed save, so I want to clear the area to keep it safe. I didn't know at the time which portal corresponded to the Radiant Mephit, so I didn't know which one to take down first. Instead, I put Rolava at just the right angle to take out one Mephit Portal before the fight began.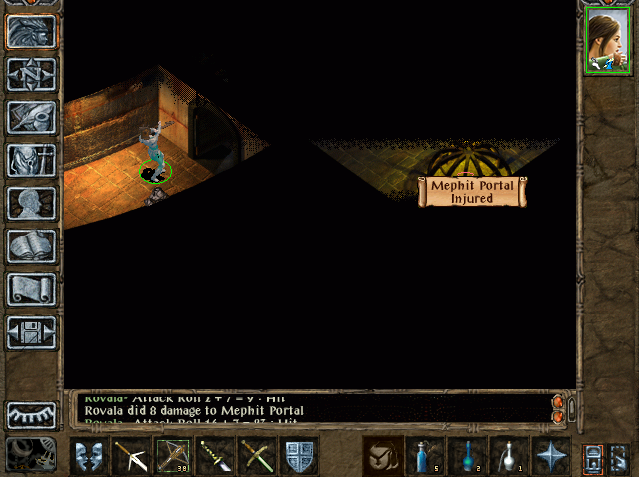 The Radiant Mephit doesn't kill me! The rest of the portals fall in turn.
Beyond killing Frennedan, I have no more fights in this dungeon. They're too risky and offer too little reward, considering my limited inventory space. I talk-block the Assassin on the way out and head to the Circus, now free to rest as much as I please.
Some of the lines in this game are really special.
Kalah's response to playing dumb is absolutely golden. I sell some more loot and buy a Potion of Invisibility.
On to the Slums! Cohrvale and Bregg make an easy low-level encounter. I spend some money identifying the Ring of Human Influence so I can try and charm Cohrvale. I use Call Shot to lower his saving throws.
No such luck. But Rolava is tough enough to bring them down anyhoo.
If we're to get any farther in the game, we need to get Lilarcor. At +3 enchantment and with immunities to charm and confusion, it's a must-have for a low-level fighter. But first we have to deal with some Hobgoblins.
I approach cautiously, making sure I can take down the shaman before he throws out Hold Person.
But there are two shamans in this fight, and another Hold Person comes my way. I drink a Potion of Invisibility so the Hobgoblins can't prey on me if I fail my save.
The potion was unnecessary! I made my save.
Unfortunately, that run failed, since I got webbed by some Improved Spiders beneath the Graveyard. And the previous run, I got paralyzed by the Hobgoblins because the Ring of Air Control's invisibility effect activated too slowly.
So, I had to start over again.