Custom NPC Portraits Masterthread [Spoilers, obviously]
Buttercheese
Member
Posts: 3,766
Hello everyone
First of all, I am aware, that there already exist some threads about custom NPC portraits but I found them all to be rather confusing, so here is my attempt to make a proper masterthread where everyone can easily find whatever portrait(s) they want to use for their game.
This thread is under constant construction!
That's why I highly encourage you to post your own works and finds here (don't forget to
source
), so that I can add them to the startpost. So check back once in a while, in case there may be the perfect portrait you have always been looking for

Here are a few highly subjective
*
"quality ensurance" guidelines:
1. The portraits shouldn't clash too much with the in-game art styles (i.e. too cartoony, cell-shading, b/w, etc.)
--- Exception: Complete packs with portraits for most/all NPC companions
2. No simple "facelifts" (meaning that they are only mildly photoshopped versions of the official ones; it would be nice though if someone else could make a different masterthread for these)
3. No obvious "facesteals" (i.e. popular actors, characters from other media, etc.) and joke portraits
4. They should resemble the original designs to at least some degree (i.e. don't just suggest any random drow portrait for Viconia)
5. They need to fit size wise. If half the face would be cut off or there would be too much negative space for the in-game version, it's out.
*that means that there are almost certainly going to be folks who will disagree with my decisions on wether an image goes into the gallery or not
Depending on how this thread goes, I might sharpen or lighten the guidelines on the go.
- Portrait Packs -
PaintBG by Artastrophe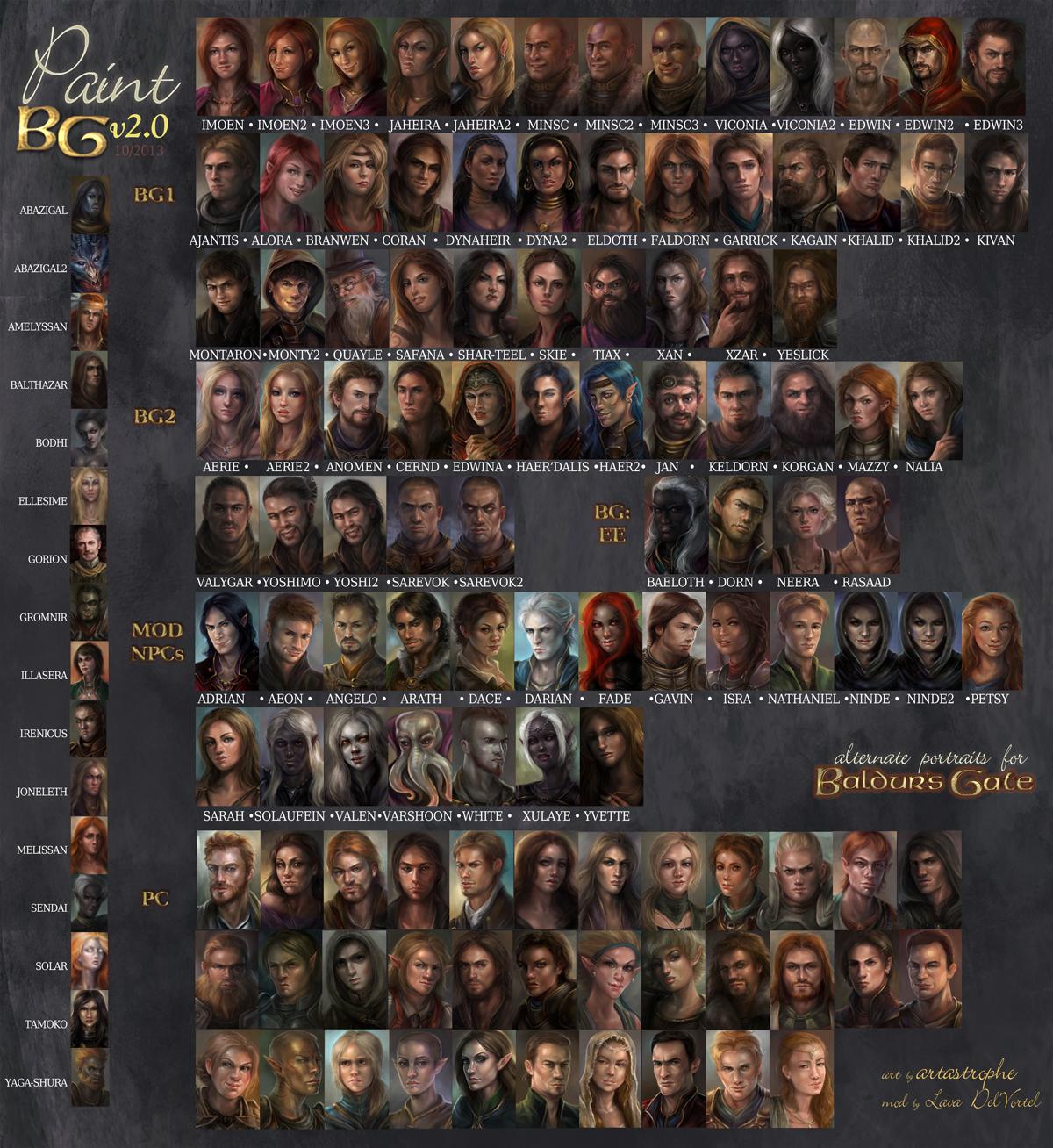 - Underdark Portraits -
These are all from 2013's
fanart contest
.
By
@Isandir‌
;
Pack download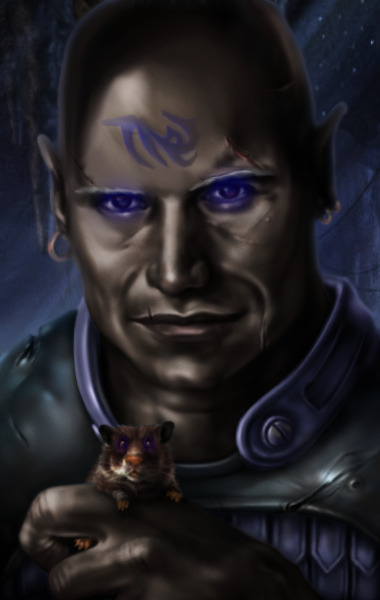 By
@Syntia13‌
By @artastrophe‌

- Aerie -
Artists:
NixxiCal aka @Nixxi
|
Sky-Byte-Haiku
|
welume
|
Anzahar
- Anomen Delryn -
Artist:
Artstrophe
- Baeloth Barrtyl -
Artist:
@lolien
- Cernd -
Artist:
monsteroverdose
- Coran -
Artist:
Ilnere
Artists:
nattzvart
|
Zoyah
|
Smailika
- Dorn Il'Khan -
Artists:
Hellstern
|
Bloodrawen
|
Gellinjer
Artist:
IcedWingsArt
- Edwin Odesseiron -
Artist:
Artastrophe
(She has so many great ones, so I decided to reduce the picks for this thread to a more reasonable number ^^')
Artists:
Rabain
|
Mike Sass
(from the beta) |
Elistraie
- Eldoth Kron -
Artist:
Artastrophe
- Faldorn -
Artist:
friedlish
- Haer'Dalis -
Artists:
Artastrophe
|
Sabalmirss
- Hexxat -
Artist:
IsandirBG
- Imoen -
Artists:
CG-Zander
|
skin-dancer
|
NixxiCal aka @Nixxi
- Jaheira -
Artists:
NixxiCal aka @Nixxi
|
KiraraDesign
|
Sky-Byte-Haiku
|
SQWID
Artists:
@randName
|
Anathlyst
- Keldon Firecam -
Artists:
Ilnere
|
Artastrophe
- Kivan -
Artist:
Smailika
Artists:
Lei-Feiyang
|
DancinFox
|
Artastrophe
|
Sabalmirss
- Minsc & Boo -
Artists:
maxpaynt
|
NixxiCal aka @Nixxi
|
Sarah Stone
|
FyrstGrok
- Nalia -
Artist:
Elistraie De'Liss
- Neera -
Artists:
@vierrae
|
n00body1
|
NixxiCal aka @Nixxi
|
skindancer
- Safana -
Artist:
friedlish
- Sarevok Anchev -
Artists:
CG-Zander
|
Artastrophe
|
NixxiCal aka @Nixxi
Artists:
uncannyknack
- Viconia DeVir -
Artists:
NixxiCal aka @Nixxi
|
CG-Zander
|
Sabalmirss
|
Artastrophe
Artist:
Anzahar
- Yoshimo -
Artists:
Amalthea
|
@AfroShero
- Xan -
Artists:
DancinFox
|
Peachplums
|
Zoyah
|
vierrae
Artists:
Artastrophe
|
veusovon
|
Smilika
Artists:
EllirhShaan
|
Naddaya
Artist:
Anzahar
Artist:
MournfulWizard
I think it's apparent which characters got the most dedicated fans

Post edited by Buttercheese on