New Premium Module: Tyrants of the Moonsea!
Read More
Female Dwarf/Gnome Portrait!
So I'm looking to experience the game in new ways, with combinations of genders/races/classes that I've always kind of had a blind spot to, and I thought I'd begin with female dwarves. I'm curious if any of you out there have a cool character portrait or concept for a character that probably doesn't get played as much as it deserves. I thought I would begin with a portrait that I did some (minor) editing to. Original art goes to the very talented Carlos Ancot!
Moxie Stonehand!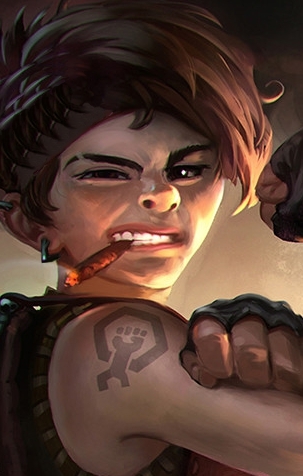 I saw this picture and immediately envisioned a pint sized badass with loads of grit and all the sass, ready to challenge Sarevok to a fist fight and drink Minsc under the table! Probably a Fighter/Thief with a focus on trap building was my initial impression, although I'm sure Moxie could work just as well as a particularly stout lady gnome. Playing a character like this could be a real breath of fresh air as opposed to the uptight do-gooders and sturm und drang villains hungry to inherit Bhaal's power. A solid Chaotic Neutral, possibly Chaotic Good character, depending on your leanings. She perfectly fits the Female: Relaxed voice, so I'm really looking forward to a play through with this character.
Have you played a female dwarf or gnome in the past? Share her portrait and your story!
Post edited by Storyteller on