All you wanted to know about the next Beamdog's project

JuliusBorisov
Member, Administrator, Moderator, Developer
Posts: 22,420
I think the time has come for a new "All you wanted to know about" thread.
Brus
here
suggested we should call it
Project Fireball, X,Storm,Severance,Sanctuary,Hurricane,Realm Z,Ivory Plane,Sapphire, Soul Nexus etc
. I agree because right now we still haven't heard an official word defining which particular project is in the works.
But a certain project is indeed in the works, there's no doubt about that.
In the end of 2015, there was a meeting between Beamdog and WotC, after which plans for the next years became known in-house.
In December 2015, the main site of Beamdog offered 3 new vacant jobs, with the description that "more original content is on the horizon."
David Gaider soon joined the team.
According to Andrew Foley
, Beamdog are currently (as of April, 2016) further ahead on developing it than they were on SoD in January 2014.
Phillip Daigle said in
an interview
to RPGamer in March, 2016: "We'd like to continue working with Wizards of the Coast on Dungeons & Dragons titles. We love D&D and we love making D&D games. At the same time, however, we're also going to be developing our own projects and brands. For now I can't reveal anything, but going forward you'll see both great licensed and original IP projects from Beamdog."
http://www.rpgamer.com/games/dnd/bgenh/bgenhsodint.html
It reads that they know already there will be both licensed and original IP projects.
Here're the main versions and evidence presented:
Version 1. PSTEE (Planescape Torment: Enhanced Edition)
1.
It's a tweet by Trent Oster from March, 2012.
2. "I've been getting a lot of requests for a revisit of [Planescape:] Torment," Cameron Tofer told
http://www.shacknews.com/
. "We would love to have the opportunity to do it."
It's
a news bit
from March, 2012.
3. "Hmm. We have a Planescape.zip file here that seems to have a bunch of source codey stuff in it ;-)
-Trent"
It's
a comment
by Trent Oster from August, 2012.
4. The IP regarding Planescape: Torment
is the property of Hasbro
, and we all know Beamdog are good friends of Hasbro.
5. WotC, a subsidiary of Hasbro, "would absolutely consider licensing out Planescape, or any of their other great D&D IPs, if they were approached with a proposal".
It's
a quote
by WotC from 11/02/2013.
So, WotC sees Planescape Torment as one of their D&D IPs.
6. "I'm sure we could add some real value to a PS:T:EE if we were ever able to do it. Make it available on multiple platforms, for instance. It's my favorite game and I hope we get a chance to work on it some day."
It's
a comment
by Amber Scott from March, 2015.
7. In an AMA from 1 year ago, Trent Oster on the question about enhancing IWD2 or PST,
mentioned
only Planescape Torment: Enhanced Edition: "besides from having too many colons in the title, is something we are interested in working on".
8. In
a recent interview
to Kotaku, Trent Oster admitted (on the possibility of going their own way, making their own universe fantasy universe) that he didn't want to leave the past behind, not yet.
9. Go to 1:19:30 from the most recent Arv interview with Trent Oster and Phillip Daigle: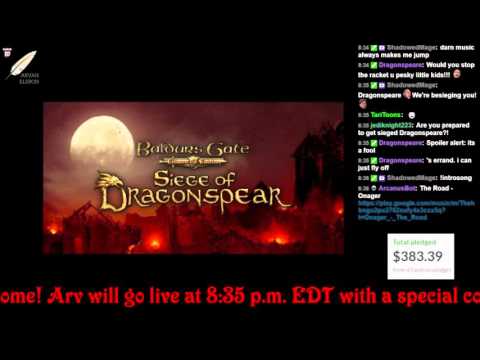 10. Buttercheese (Tari Toons) created a doodle based on that moment, which was retweeted by both by Trent Oster and Phillip Daigle:
11. Chris Avellone, a Lead Designer on PST and a Narrative Consultant for SoD, when answering several questions on
http://www.rpgcodex.net/
once
said
:
"Beamdog and Torment possibility: I'd love to if the chance existed."
12. Later this year TToN will be released, which will create a wave of nostalgia for PST, and there probably won't be a better time to release PSTEE.
Version 2. A new game
1. "I don't think it's some big secret that we're interested in continuing work on original BG-style games in the future. We love the genre, we love playing the games, and we know how to build them.
If we were to make an expansion or DLC for an existing game like BG2EE or IWDEE it would retain the same ruleset as the base game.
Any new D&D games that get made would use 5th Edition."
It's
a comment
by Phillip Daigle from January, 2016.
2. "our plans for the future. We want to leave the IE-era games in an excellent state and then move on to something more modern eventually."
It's
a comment
by Phillip Daigle from February, 2016.
3. Andrew Foley in February, 2016, liked
this comment
:
"It (PSTEE) would be nice, but at the moment I would rather see new content such as icewind dale 3 , iwd2 ee with a new expansion or a brand new IE game."
4. The same quote from
the recent interview
to Kotaku as in the Version 1:
"Whereas D&D, I have all that knowledge and if I want some more knowledge I can just go on the internet or pop open a rule book. To me, that's just the power that D&D has that crafting your own stuff from scratch just cannot have." - it could be just pointing to the fact a new game would be based on D&D, it shouldn't specifically be about PSTEE.
5. In April, 2016, David Gaider tweeted this:
And Phillip Daigle mentioned that document had something to do with Bhaal:
6. David Gaider is a Creative Director at Beamdog, so it basically means he has much more ideas than content for an EE.
Maybe two projects (an EE of an existing title and a new IP) are being worked on in the same time?
Like a new EE for now and a new IP for the more distant future, so that the situation about SoD sales etc could be more clear:
In the interview to to RPGamer in March, 2016 Phillip Daigle
said
: "We've got lots of ideas for spots in the Baldur's Gate series that could be filled in, but we're waiting to see what the reception to Siege of Dragonspear is like before we commit to anything major. First we need to see what the fans want, then we'll look at what we can deliver. We've also got an eye towards the future. The Infinity Engine was built almost 20 years ago and limits us in a lot of ways. We're actively exploring next-gen technology for some potential future games."
Version 3. Something else (IWD2EE anyone?)
1. In
an interview
with
http://www.pcgamer.com
Trent Oster mentioned:
"Icewind Dale II implemented the 3rd Edition rules and has a completely different UI scheme. We're really not sure how deep those changes run," Oster explained. "The move to 3rd Edition rules would invalidate all the character classes and require a pretty thorough rework of the entire game to bring in the features from our Infinity Plus Engine. At minimum, nightmares abound."
2. In
an interview
with
http://venturebeat.com
Trent Oster answered this question: "You talked about "nightmares" about the idea of working on enhanced editions for Icewind Dale II and Planescape: Torment. Is this still the case, or have you made any progress on Icewind Dale II at this point?"
Trent Oster: "We've yet to really dig into them. Torment is probably the easier of the two as the rules are at least similar. Icewind Dale II had a large deviation due to the move to 3rd Edition D&D rules. We're still working on Infinity as we wrap up the 1.3 update for BGII. After the holidays, we'll have more time to dig into the possibilities."
3. In the latest AMA an answer on PSTEE or IWD2EE
was the same
:
"We don't announce projects in development, but we do love the Infinity Engine and Forgotten Realms and would like to do more work on these games in the future."
"We usually don't comment about games in development, but we have said that we've been building up the capabilities of our team and we love the Forgotten Realms. We'd have to get a concept and bring people on board, but it's something we would love to do in the future."